Booking Terms
Please read "Booking Terms and Conditions" carefully as by paying the 15% deposit (per person, per trip) you acknowledge that you have read and agreed to the following conditions. Your contract with Magical Summits based in Kathmandu, Nepal. Magical Summits hereinafter referred to as 'the company' in respect of the booking conditions which apply to all of the trips on this website.
1. When you confirmed the trip, we need a photocopy of your passport and 15% down payment of the total price for advance flight tickets and hotel booking and permit process.
2. Payments can be wired by bank transfer, PayPal or Wise please use any means of transfer according to your convenience.
3. After receiving the photocopy of your passport, and 15% advance from you, we send you the final confirmation receipt.
4. The remaining balance can be made after your arrival in Nepal. Full payment should be made before the trip departure. Be mindful, we also reserve the right to cancel your trip provided full amount is not paid in time.
Cancellation Policy
We understand sometimes unavoidable circumstances lead clients to have to cancel their trip, therefore we have the following policy in place:
For cancellations made more than one month prior to the departure date there will be a 100% refund (minus any transaction fees).
For cancellations made less than one month prior to the departure date there will be a 50% refund (minus transaction fees)
Should clients have to cancel (due to illness or an emergency at home) once they have arrived in Kathmandu and paid the full amount, there will be a refund of 80% of the balance AFTER deduction of any costs which have already been incurred (flight ticket cancellation fees, hotel cancellation fees, part payment to porters, etc).
In case of refunds, we will process this immediately, but it might take 5 to 14 days for the process to go through the bank. Please be patient.
Early Return
Sometimes, for a variety of reasons, clients return early from their trip. If this does happen, there is no refund. In these cases, payments are non-refundable because guides and porters have to be paid for the number of original days booked.
Domestic Flight Delay
The reason you came to Nepal was the Himalayas, right? So, while they are beautiful, Himalayas are also unpredictable! Sometimes domestic flights get cancelled due to bad weather, particularly those flights to the mountain areas. Should flights be delayed or cancelled, the client is liable to bear the cost of any additional nights in a hotel.
Passport and Visa
All clients must have a valid passport with at least 6 months validity from return date.
Nepal visas can be obtained from the Consulate, Online, Immigration office of your country or from your arrival at Kathmandu Airport.
To apply online, click here https://nepaliport.immigration.gov.np/online
Travel Insurance
We strongly recommended a compressive travel insurance package to all our clients. It will be assisted adequate protection trip to cover personal injury, medical expenses, repatriation expenses, emergency evacuation and any kind of illness will be covered.
Magical Summits offers mainly three categories of holidays in the Himalayas, Nepal Bhutan and Tibet. Those trips are Leisure Tours & Safari, Trekking & Hiking Holidays and Climbing & Expeditions in the ice and snowy Himalayas.
Before buying your insurance make sure your insurer is aware of the Magical Summits itinerary that you're going to undertake and is agreeable to cover all trips activities.
Your insurance coverage of an air ambulance or helicopter rescue is not mandatory for the trip in urban areas, but it is better to have them with you. Again, for Tibet vacations there is no possibility of helicopter rescue, therefore it is not necessary to buy the air ambulance coverage in Tibet trips. Also, check your insurance policy to include trip cancelation.
Covid-19
We both acknowledge the COVID-19 global crisis and accept our obligations to follow with any official guidance from governments or local officials, both at home and in destination countries (Nepal, Bhutan, Tibet).
Please note that we will not be responsible for any refunds, compensation, expenses, costs, or other losses of any kind incurred by you (including, where applicable, the cost of medical treatment) etc.
Risks & Liability
Magical Summits has directed towards the fulfillment of your every desire. We perform our duties honestly and seriously to make your journey very smooth and pleasant. However, we will not take any responsibility regarding any change & alternations in the itinerary due to unavoidable circumstances such as government restrictions, political strikes or unrest, landslides, road blockage, floods, snow avalanche, any loss, thefts or damages, altiude sickness or accident. Magical Summits will not be responsible for any of the additional expenses.
Full name of participant: _____________________
(Please print clearly)
Signature of participant: ______________
Date: _____________
Personalize Trip
"I was born and raised in Nepal, nearby Everest region. I am proud to be a native Sherpa, and I have been a Mountain guide over a decade now. Following my passion, I decided to start helping travelers with their travel plans! I think life is a journey, a trip where you collect experiences when you share with other people and with nature."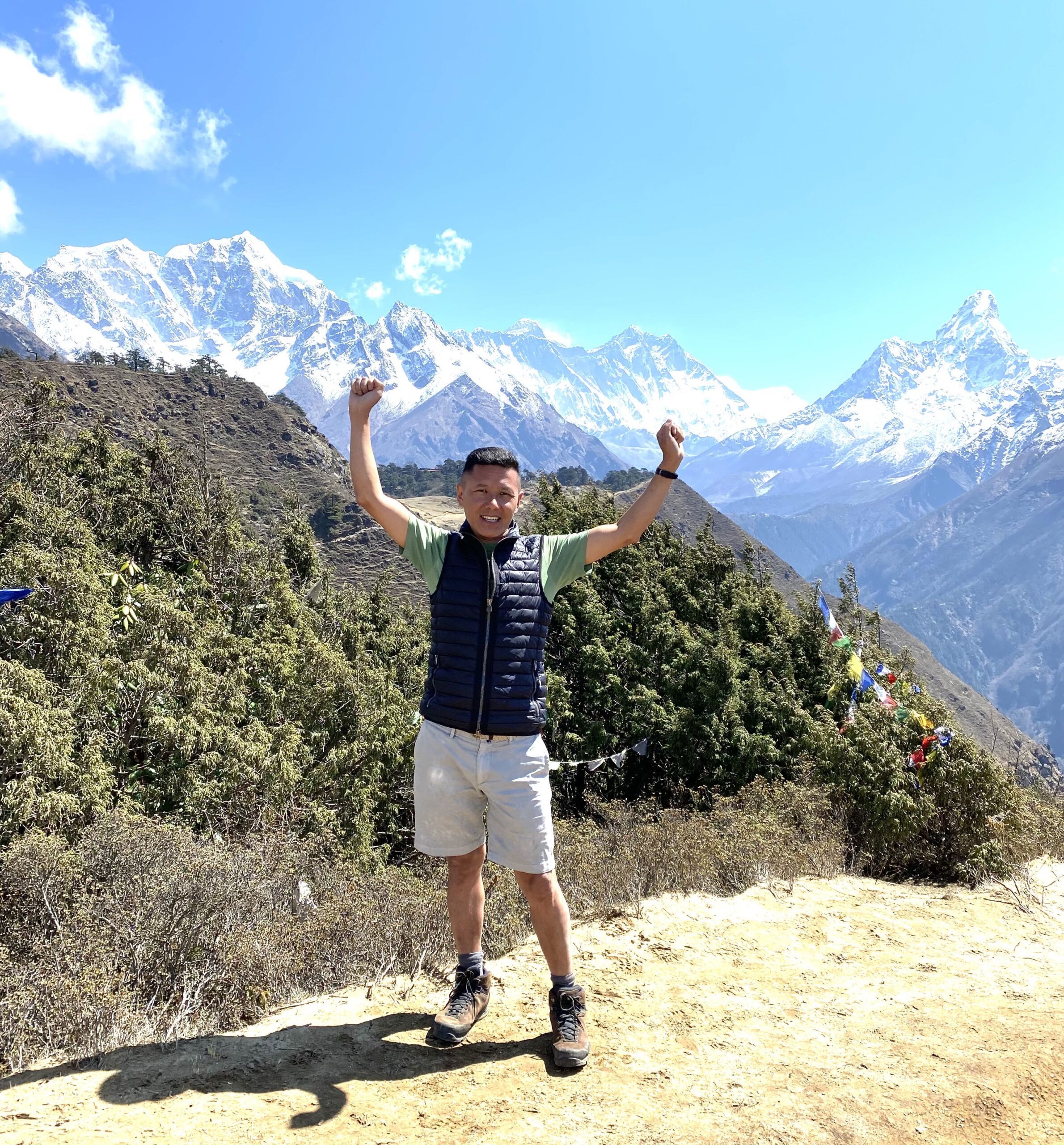 Chhiring Sherpa