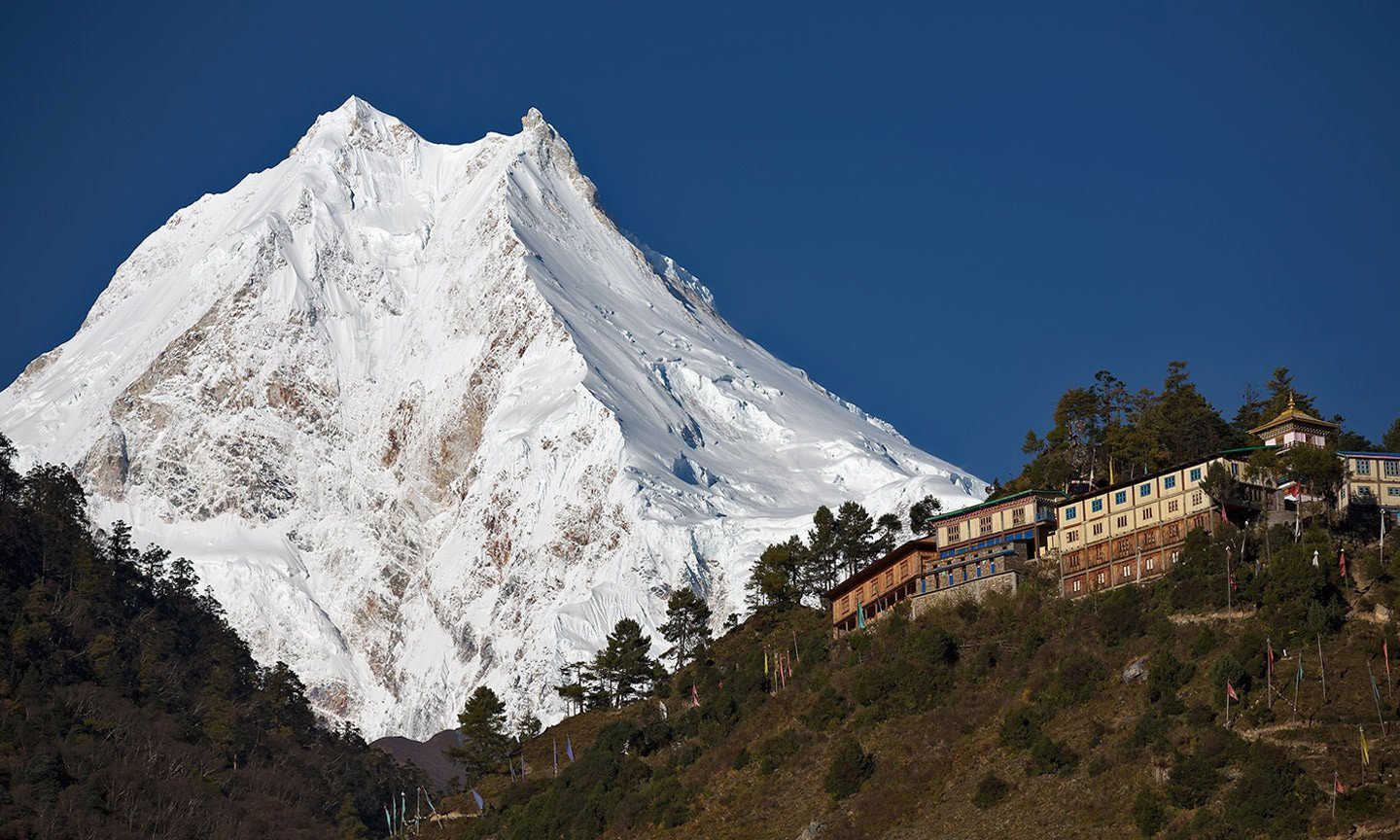 Duration

22 Days

Max. Altitude

5,213m.

Trip Grade

Strenuous

Activity

Tours, Hiking

Group Size

8 People Max
Manaslu Circuit and Tsum Valley Trek
Manaslu Circuit and Tsum Valley trek is a wonderful remote trek in Nepal. This route takes you through remote villages off the beaten paths. You will also reach the border of Nepal and Tibet during this trek.
This trek highlights the unique and traditional rural life of Nepal. It's an opportunity to witness the beauty of nature and culture. During this trek, the diversity of landscapes, wildlife, and birds is incredible.
During this trek, you can also visit Ganesh Himal Base Camp. The Himalayas between Nepal and Tibet are the most spectacular views. You can see plants, animals, and birds while passing through the Manaslu Conservation Area.
The Manaslu Circuit and Tsum Valley trek is without a doubt the best experience of a lifetime. This trek is the perfect way to learn about Nepal and Tibet's combined cultures. You will trek through various settlements with unique ethnicities and rich cultures. Overall, the Manaslu Circuit and Tsum Valley trek is a magical trip that Nepal has to offer.
Things to Know – Why Manaslu Circuit and Tsum Valley Trek
Manaslu Circuit and Tsum Valley is an off-the-beaten-path trek in the north of the Manaslu region. The remote landscapes of the Tsum Valley offer an epic adventure to all trekkers.
The view from Larke La is stunning of Himal Chuli, Himlung Himal, and Cheo Himal mountains.
You will have an opportunity to discover the rich Tibetan culture and heritage. There are century-old Buddhist monasteries, Chortens, main prayer walls, and nunneries.
The trails pass via the upper Budhi Gandaki river valley and the unique Tibetan villages.


Highlights

Historic and gorgeous Gompas like Mu Gompa, Rachen Gompa
Adventurous Larke La Pass
Off the beaten trails, less undiscovered trails.
The beautiful hidden valleys of the Manaslu and Tsum regions.
Hiking to the Tibetan border and discovering the Tibet side.
Itinerary
1
Arrive at Kathmandu
On the first day, you will arrive in Kathmandu. We will meet and greet and take you to your hotel.
Today is a free and rest day in Kathmandu, or you can wander around the city to get familiar with the surrounding. There are varieties of religious and fun places where you can hang out and enjoy the time.
Accommodation

Optional

Meal

No

Max. Altitude

1,400m

Time

Rest day
2
Free day, trek preparations and gear check
Today, it's free for sightseeing in Kathmandu. You may want to visit Durbar Square in the heart of the old town, where the old Royal Palace with its intricate woodcarving is located. The whole area is a labyrinth of temples and images.
The narrow alleys that lead away from the square in all directions, full of the most amazing variety of shops and stalls. Some of these landmarks are considered World Heritage Sites, including the historic Bhaktapur Durbar Square, the famous Monkey Temple Swayambhunath and the Buddhist Shrine Buddhanath, one of the largest stupas in the world.
Today, there will also be a trip briefing with gear check. If you need to rent or buy equipment locally, there will be time to do this today.
Accommodation

Optional

Meal

Optional

Max. Altitude

1,400m

Time

Free day
3
Drive to Soti Khola
After your breakfast and leave for SotiKhola, and it will take around 7 to 8 hours to reach SotiKhola.
The view from the bus is much more exciting and captivating than you expect the countryside to be. The winding roads and the settlements that combines very well with nature amazes you.
You will enjoy your ride. The duration of the journey is perfect to admire the beauty of the view from the bus.
Here, you can take beautiful pictures with ease. The views are beautiful because of the mountains and the gorges of the river.
After reaching SotiKhola you'll have your evening meals and rest the night in a lodge.
Accommodation

Lodge

Meal

Lunch, Dinner

Max. Altitude

710m

Time

7 – 8 hours
4
Trek to Macha Khola
Today, the trekking begins! You will trek towards MachhaKhola.
You will have a filling breakfast and then leave for MachhaKhola. On the way, you'll see the rivers and water resources that Nepal is rich in. You will find the rivers beautiful as you will trek from a certain height around the hills. You will also see mountain views.
You'll pass through suspension bridges from one hill to the other. You pass the trails along the Budhi Gandaki River to reach Macha Khola. You will have dinner and then you will rest for the night.
Accommodation

Lodge

Meal

Breakfast, Lunch, Dinner

Max. Altitude

930m

Time

6 – 7 hours
5
Trek to Jagat
Today, you will hike to Jagat, which is in the Lamjung District. The trail towards Jagat is also filled with suspension bridges. The trails are on the hillsides.
You will see local people carrying their loads in a Doko (jute basket) on their backs. They carry food and other necessities on their backs. The normal transportation facilities are not convenient in this place. You will rest for the night here.
Accommodation

Lodge

Meal

Breakfast, Lunch, Dinner

Max. Altitude

1,410m

Time

5 – 6 hours
6
Trek to Lokpa
Today we will trek on a rocky and rugged trail. We will ascend up and down the ravines. From here, we can have a beautiful view of SringriHimal as we walk to Lokpa at 2249m. It takes about 5 – 6 hours of walking. We spend night at lodges.
Accommodation

Lodge

Meal

Breakfast, Lunch, Dinner

Max. Altitude

2,240m

Time

5 - 6 hours
7
Trek to Dumje
Today's trek will take about 7 hours. We're heading uphill from Lokpa on a ridge that takes us up to and from Ganesh Himal Base Camp to Chumling. Chumling is located on the south side of the ShingriHimal, which is also known as the Tsum lower.Overnight at lodge.
Accommodation

Lodge

Meal

Breakfast, Lunch, Dinner

Max. Altitude

2,460m

Time

6 – 7 hours
8
Trek to Nile
After breakfast, we will hike to Chule which might take us 7 hours. This is the last village leading north into the Upper Tsum Valley area. Nile is on the west of the ShiarKhola, a short walk from Chule.
On our way to Tsum at the base of a rocky cliff near the village of Burji, we can visit the cave of PirenPhu. The view of Shiar Khola, Rachen Gompa, mountains and farmland in the surrounded area is most beautiful. Overnight at lodge.
Accommodation

Lodge

Meal

Breakfast, Lunch, Dinner

Max. Altitude

3,361m

Time

6 hours
9
Trek to Mu Gumba
We'll hike up to Mu Gompa, the region's largest monastery. It is located on the highest point of the Tsum Valley. Built in the 1800s, Kangyur, a life-sized statue of Avalokiteshwara, and images of Tara and Guru Padmasambhava. The journey will take approximately 4 hours. Overnight at lodge.
Accommodation

Lodge

Meal

Breakfast, Lunch, Dinner

Max. Altitude

3,710m

Time

6 hours
10
Discovery day
We will visit the area the entire day and walk through the mountains with snow peaks. We can visit the base of PikaHimal as well. We have a wonderful view of Tibet and the magnificent peaks of Tibet and the Ganesh Himal. Overnight at lodge.
Accommodation

Lodge

Meal

Breakfast, Lunch, Dinner

Max. Altitude

3,710m
11
Trek to Rachen Gumba
Your Mu Gumba discovery is over. This is another phase of the trip to Manaslu Tsum Valley. It is now time to hike to RachenGumba. It is in the center of the ShiarKhola Valley. It will be 4 hours of trek.
You'll enjoy the downhill walk. You will walk down to the valley through Chule. Keep heading down to Phurbe. A few homestays offer great food.
RachenGumba is since around 1905 AD. It is one of the biggest nunneries in the Tsum Valley. The RachenGumba is full of historical Buddhism paintings. Either a monk or a nun in the valley is a family member. Overnight at lodge.
Accommodation

Lodge

Meal

Breakfast, Lunch, Dinner

Max. Altitude

3,240m

Time

4 hours
12
Trek to Chumling
The same trail as before you will follow. You will walk down to the Chumling Valley.
You will now move to the Lower Tsum, leaving all of the lovely villages and sceneries.
It is the largest and most lovely village in the region. There are good accommodation facilities here. Overnight at lodge.
Accommodation

Lodge

Meal

Breakfast, Lunch, Dinner

Max. Altitude

2,385m

Time

7 hours
13
Trek to Deng
Today, we're heading backwards with a beautiful view of Ganesh Himal and Manaslu accompanying us. Where you will have lunch and continue our trip from a steep gorge and then go down the grassy slopes to cross the Budhi Gandaki and then cross bridges from west to east bank and back again.
As the trail widens, we cross the bamboo forest to reach the Deng Khola. After crossing the river, we get to the small Deng village, where we spend the night. Overnight at lodge.
Accommodation

Lodge

Meal

Breakfast, Lunch, Dinner

Max. Altitude

1,860m

Time

4 - 5 hours
14
Trek to Namrung
We'll take a short walk from Deng and then we'll cross the Budhi Gandaki and climb to Rana. From here we ascend for a while and then head west to the Budhi Gandaki Valley. The trail passes through forests and Mani stones and a corner from where we reach Ghap.
Then we take the route through the Pork village, which allows us to see the beautiful view of Siring Himal.We follow the river, cross it in many places and pass through dense forests and gompas. After crossing the river at the gorgeand after the last steep climb, we reach Namrung.
Namrung is the best viewpoint for Ganesh Himal, Siring and Mt. HimalChuli. And it is full of Tibetans' community. Overnight at lodge.
Accommodation

Lodge

Meal

Breakfast, Lunch, Dinner

Max. Altitude

2,630m

Time

6 hours
15
Trek to Lho
From Namrung, a steep climb and a passing through the forest take us to Lihi village, a village famous for its chortens and barley terraces.After crossing the Simnang valley, we'll pass through Sho and then reach Lho, where we'll spend the night. Late in the afternoon, visit the local monastery after you got there.Overnight at lodge.
Accommodation

Lodge

Meal

Breakfast, Lunch, Dinner

Max. Altitude

3,180m

Time

4 hours
16
Trek to Samagaun
Today is a short trek to Samagaun, that will take you 2 to 3 hours. Mount Manaslu is all over you while you're on this route.
The magnificent view of Manaslu makes your walk easier. The trail goes up after 3520 m from the village of Shyala, with a dense pine and rhododendron forest.
As you get closer to this village, the mountains begin to disappear and you will see green pastures, yaks and lots of stone-built houses. Samagaun is a big village, and you stay here tonight.
Accommodation

Lodge

Meal

Breakfast, Lunch, Dinner

Max. Altitude

3,500m

Time

2 - 3 hours
17
Discover Samagaun
It is almost mandatory to stay here in Samagaun because of the altitude. Today is a free and rest day. Samagaun exploration is a today's task. This lovely and large village needs all your attention. You can take a hike to Anie Gompa and Birendra Tal.
If you're good enough to use time other than resting, then it's best for you to visit Pungyen Gompa. From here, you can see a few glaciers.
You can also visit the Manaslu Base Camp, which would take you 6 to 7 hours on both visits. Overnight at lodge.
Accommodation

Lodge

Meal

Breakfast, Lunch, Dinner

Max. Altitude

930m
18
Trek to Samdo
This short but exciting trek passes on the Manaslu Tsum Valley trek. It takes you 3450 m to the Birendra Tal. This part of the trek is hard during the winter season.
You'll have to pass through the Manaslu Glacier. You will continue to pass and following the river. The Samdo village is also considered as the Tibetan refugee village. Tibet is just a day away from here.
You'll see the Juniper forest all around you. But you'll always be fascinated by landscape, culture and lifestyle. From here, Samdo peak is visible. Overnight at lodge.
Accommodation

Lodge

Meal

Breakfast, Lunch, Dinner

Max. Altitude

3,860m

Time

3 hours
19
Trek to Dharamasala
We begin our day trip by crossing a wooden bridge over the Buddhi Gandaki River and start a hike uphill. After crossing a few streams and seeing a glimpse of the Larkya Glacier, we're going around the valley and going up again to reach a guesthouse called Dharmashala.
This short walk to LarkePhedi offers sufficient time and rest to acclimatize for the further trek.Overnight at lodge.
Accommodation

Lodge

Meal

Breakfast, Lunch, Dinner

Max. Altitude

4,480m

Time

4 hours
20
Cross Larke Pass (5,160m)and trek to Bimthang
You should start ascending early towards the Larke Glacier, which only ends at the top of the pass. Due to heavy snowfall and strong winds all around, it could be difficult to cross this pass.
It's not difficult to climb, but it's a long walk over the mountains. If you're in the moraine, Rocky underfoot would create some trouble walking.
When you walk ahead, you're going to cross four frozen lakes. Wouldn't that be exciting? You will see Himlung 7126 m, Annapurna II 7937 m, Kangguru 6981 m, and many others above 6000 m from the summit of the pass.
You need to go down now. Watch out, this trail can be full of snow and ice. Through all these forests, mountains, glaciers, and waterfalls, you'll trek to Bhimtang (3720m). From this place, the view of Mt. Manaslu is unexplainable. Overnight at lodge.
Accommodation

Lodge

Meal

Breakfast, Lunch, Dinner

Max. Altitude

5,160m

Time

8 - 9 hours
21
Trek to Tilje
From here, it starts to trek towards the lower valley. After all these altitudes, don't get excited, you are heading down really low.
Continue your trip along the river and reach the Hompuk village. The coniferous forest, full of rhododendrons, persuades you to delay your journey, but you should not stop there. Follow the paths alongside the River DudhKoshi.
Enjoy this height, vegetation, and scenery because from this place you'll be going down your altitude. The Karche section is the landslide region, so be extra careful. You're going to get steep and descend from here.
You're in Gho village now. Continue to Tilje, your final destination. Tilje is the brandy-famous village of Gurung and you have to taste it and have a good rest. Overnight at lodge.
Accommodation

Lodge

Meal

Breakfast, Lunch, Dinner

Max. Altitude

2,300m

Time

6 – 7 hours
22
Trek to Dharapani and drive to Kathmandu
Today is the final day of Manaslu Tsum Valley trek. Now, you will drive to Besisahar. You are entering the Marshyangdi Valley through the shrubs forest.
You will join the newly constructed road before you reach the busy settlement of Dharapani. Once you reach Dharapani (1,5 hours walking), there is a police checkpoint. You can either take a bus or jeep to Besisahar from Dharapani(2 – 3 hours' drive to Besisahar), and drive to Kathmandu 5 – 6 hours.
You'll be in Kathmandu after a long, tiring yet rewarding journey to Manaslu Tsum Valley. You will drive to Kathmandu along the Marshyangdi and Trisuli River.
Terraces field, rivers, valleys, mountains and landscapes will continue to amaze you. A final farewell to the wonderful Manaslu Tsum Valley trek.
Accommodation

Optional

Meal

Breakfast

Max. Altitude

1,400m

Time

8 hours
23
Free day / Fly to home
Enjoy the city's luxuries again! Spend the day shopping in Thamel for souvenirs, or simply relax.
In the evening, we will have a farewell dinner in a typical Nepalese restaurant with culture show.
The time has come to say goodbye to Nepal. A representative will meet you at your hotel and take you to the Airport for your return flight home.
What to Expect
What's Included
Airport transfers pick-up and drop-off.
Manaslu Circuit Trek restricted area permits (USD 145 per person from Sept to Nov. It's USD 105 from Dec to Aug).
Transportation from and to Kathmandu by local bus (upgrade to private Jeep/car – USD 175 total, one way).
All meals (breakfast, lunch, dinner) during the trek.
All accommodations during the trek.
English speaking Sherpa trek guide.
Staff insurance and necessary ground transport for support staffs.
Porter to carry your luggage during the trek (1 porter for 2 trekkers).
Magical Summits duffel bag.
Hiking pole for the trek, if needed.
Trek map.
Farewell dinner including a cultural show.
What's Excluded
International airfare and Nepal entry visa.
Tips for guide and porter (tipping is expected).
Travel insurance which covers emergency Rescue and Evacuation.
Any others expenses which are not mentioned on the 'Included' section.
FAQs
1. What is the best time to trek Manaslu Tsum Valley Trek?
Spring and Fall are the best time for the ManasluTsum Valley trek. During the spring of March, April and May are the best months for this trek, because in these months the weather will be clear and calm, as well as you can get a chance to see the High Mountains, including Manaslu, full of snow. Spring is the perfect time for rhododendron blooming; you can see all the rhododendron forest turning into a beautiful garden
Autumn (September, October, November) is the peak season for this trek. And the climate is pleasant during the Fall season too. But the nights are pretty chilly, do prepare to keep yourself warm and comfortable.
2. How difficult is the ManasluTsum Valley Trek?
3. Do I need travel insurance to trek Manaslu Tsum Valley?
No. of paxPrice per person

2 - 8 pax

$1490
Similar Packages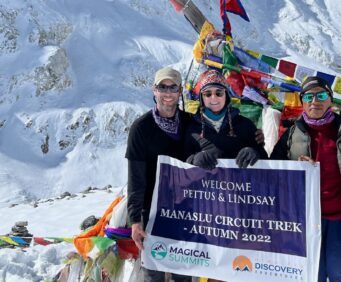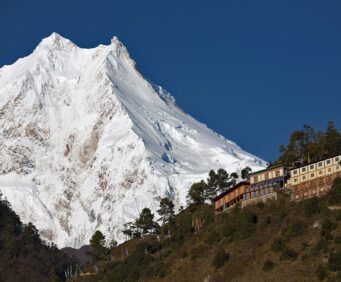 Travel With
Magical Summits is your key to seeing the Himalayas through a local lens. Being a native Sherpa-owned active holiday company, by providing unparalleled and personalized customer service, Magical Summits is born to the top of Nepal's very competitive travel market.

At Magical Summits, we pride ourselves in making that extra effort to give all of our clients our personal touch, crafting each holiday to suits your needs, desires, and budget, to create unforgettable vacation experiences. Ready? Let's go!
Small Groups and Solo travelers
100% Customizable trips for all ages
Native Sherpa-owned and operated
Freedom, fun & Innovative itineraries
Quality service and Higher trip success rate
Sustainable Travel
Personalize Trip
"I was born and raised in Nepal, nearby Everest region. I am proud to be a native Sherpa, and I have been a Mountain guide over a decade now. Following my passion, I decided to start helping travelers with their travel plans! I think life is a journey, a trip where you collect experiences when you share with other people and with nature."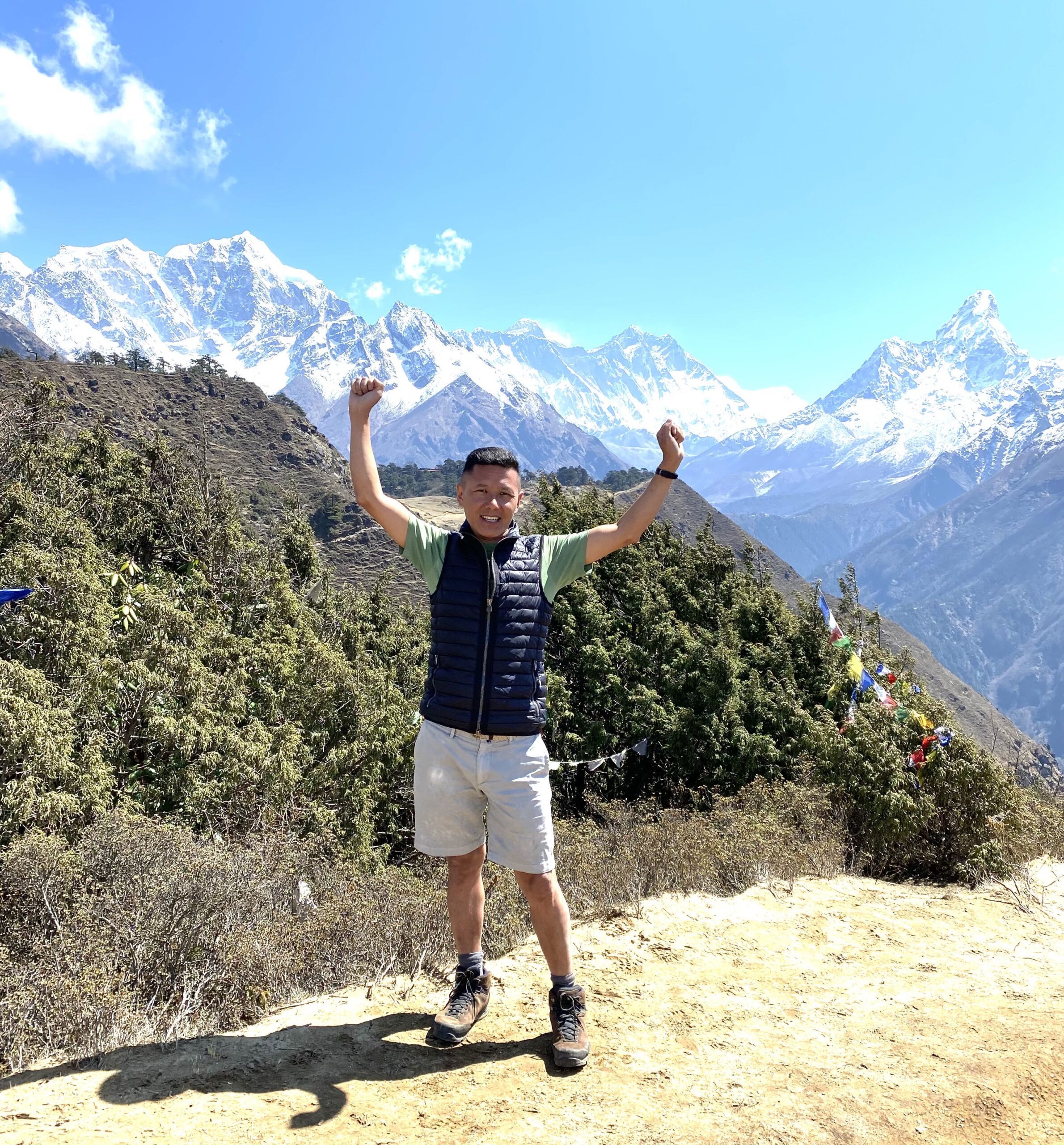 Chhiring Sherpa