The Himalayan nation Nepal is a popular destination for travelers and adventure seekers from all over the world. Hiking in Nepal's remote regions takes you through scenic and hidden valleys, ancient shrines and places, yak caravans crossing high Himalayan passes, and mountain people living in some of the world's highest settlements. Hiking in the Nepal Himalayas will be a truly magical experience.
However, due to the Covid-19 pandemic, travel has been restricted in Nepal, as the rest of the world, since 2020 March. However, the Nepalese government has made travel easier with rules and policies that allow visitors to visit the Himalayan country again.
Latest update: September 24, 2021 Nepal dismissed the seven-day quarantine requirement on Thursday and resumed issuing on-arrival visas to all vaccinated travelers.
Visitors should have received their last Covid-19 vaccine dose at least 14 days before entering Nepal. Those who are not vaccinated or partially vaccinated will still not get on-arrival visas. They must obtain entry permits from Nepalese diplomatic missions and spend 10 days in quarantine in hotels. Read the latest news here.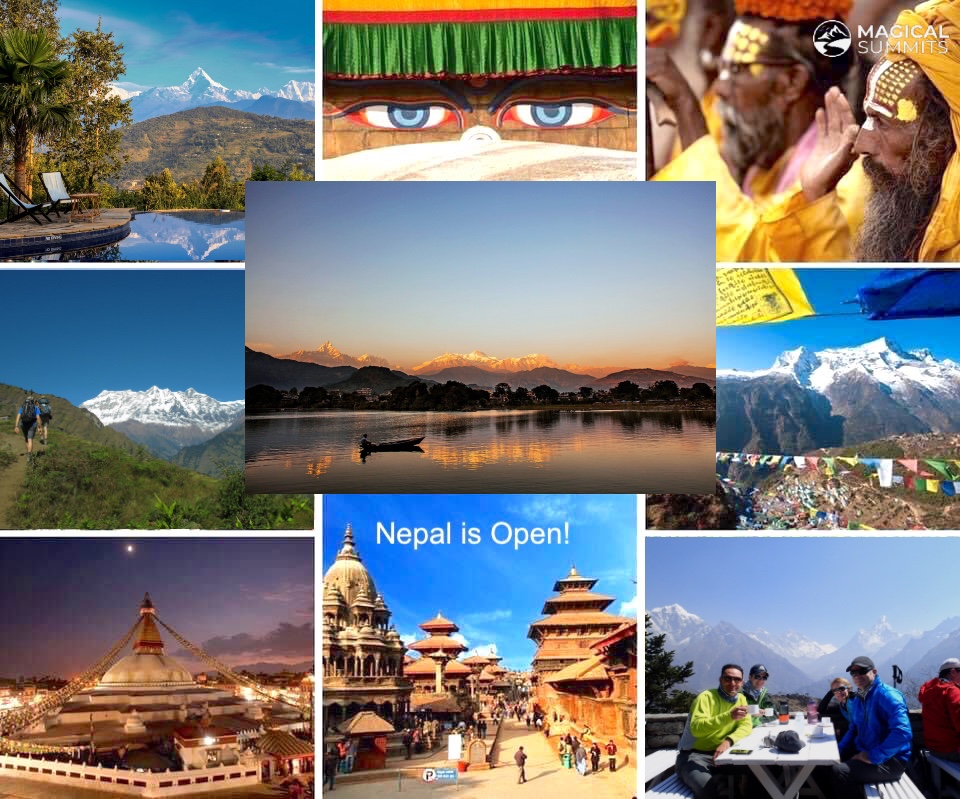 General FAQs.
Can I travel to Nepal now?
Yes, you can travel to Nepal now. All travel and trekking destinations such as Manaslu, Everest,Annapurna, Langtang, Gosaikunda, Dolpo, Mustang and the far western zones are open. The Nepal government started to issue trekking, tours and mountaineering permits starting from January 2021.
How can I get a tourist visa for Nepal in this Covid-19 situation?
There are two ways for getting a tourist visa for Nepal. From the Nepal Embassy / diplomatic missions in your country. At Tribhuvan International Airport, you can also get an on-arrival visa.
All vaccinated travelers will have to present a negative Covid-19 test result taken 72 hours before to the departure, and fill up the international travelers' online form at www.ccmc.gov.np and have a printed copy to apply for on-arrival visa at the airport.
Do children also need negative Covid-19 reports?
Children below 5-year are exempted from such reports.
How is the situation of flights and transportation in Nepal?
Domestic flights have resumed at full capacity. Public transportation, including taxis and buses, as well as long-distance buses, is fully operational.
Is it ethical and responsible to travel or hiking in Nepal now?
Yes and we should use travel to support communities and the environment.