Manaslu Circuit Trek Cost
Manaslu Circuit Trek is less traveled and more remote than treks like Everest or Annapurna, but it is just as spectacular as other popular treks. The cost of Manaslu Circuit Trek depends upon several factors such as holiday duration, mode of transportations, accommodation and food.
Although this trek is slightly more expensive than Langtang Valley or Annapurna Base Camp, the remote and untouched beauty of Manaslu is well worth the price. Since Manaslu Circuit trek stands in the restricted area, you need a restricted area permit to enter the region.
The special permits for Manaslu is USD 100 per person for one week from September to November. After the first week, it'll cost an additional fee of USD 15 each day during the Autumn. However, the cost drops to USD 75 with an additional fee of USD 10 each day for the rest of the year. You'll also need ACAP and MCAP for Manaslu trek, which will cost you around USD 27 each.
In addition, if you choose to combine your Manaslu Circuit Trek with Tsum Valley permits costs USD 40 per person for the first seven days, with an additional USD 7 per week during the Autumn. For the rest of the year, the cost is USD 30 per person per week, plus an additional USD 7 per day.
Manaslu's teahouses are reasonably cheap, ranging from USD 6 to USD 9 per night with an additional USD 5 per meal. Local buses from Kathmandu to Soti Khola cost around USD 10 per person. However, traveling by jeep is more pricey, costing you roughly USD 170 to USD 200 for one way.
As this Manaslu Circuit Trek is in a restricted area, it is mandatory to have a licensed guide or porter accompany you on the trek. A licensed guide will cost you about USD 28 to USD 33 per day, while porters will cost you between USD 17 to 20 per day.
Outline Itinerary of Manaslu Circuit Trek
Day 1. Arrive in Kathmandu 1400m
Day 2. Free and Trek Preparation day
Day 3. Drive to Soti Khola 710m, about 7 – 8 hours
Day 4. Trek to Machha Khola 930m, 6 hours
Day 5. Trek to Jagat 1410m, 5 – 6 hours
Day 6. Trek to Deng 1804m, 6 hours
Day 7. Trek to Namrung 2630m, 6 – 7 hours
Day 8. Trek to Samagaon 3530m, 6 – 7 hours
Day 9. Trek to Samdo 3860m, 4 hours
Day 10. Trek to Dharmashala 4460m, 3 – 4 hours
Day 11. Trek to Bimthang via Larke La Pass 3700m / 5160m, 8 – 9 hours
Day 12. Trek to Ghowa/Dharapani 1860m, 6 – 7 hours
Day 13. Drive to Kathmandu, 9 hours
Day 14. Fly to home.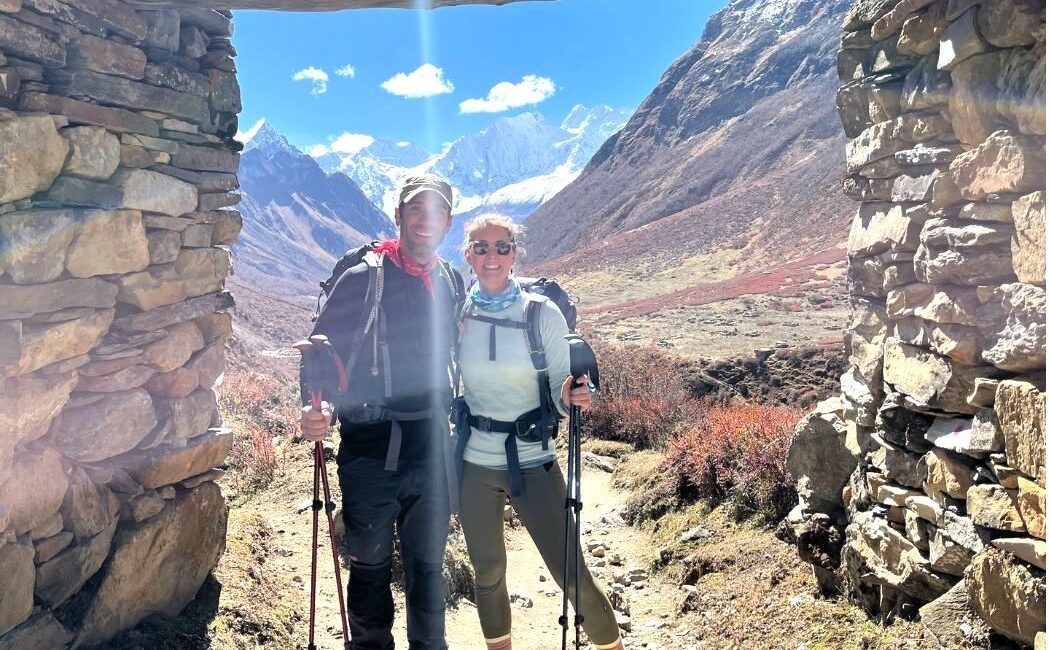 Accommodation and Food During Manaslu Trek
Guesthouses and local lodges facilitate the complete route of Manaslu Circuit. The local communities of the area operate the guesthouses and lodges in the Manaslu region.
The rooms are very simple, with two standard single beds. The bathrooms are mostly shared and are located outside the guesthouse. The dining hall is the only place where heating is available.
Unlike Everest area and Annapurna area, there are no luxury hotels in the Manaslu. Most lodges offer hot showers; however, you may have to pay an extra fee for the service.
The lodges of Manaslu also offer a menu with a variety of western food. The food still quite costs cheap in the lower regions of the journey and increases along with the altitude rise. Also, the food options on the menu will become more limited in the higher part of the trek.
Although the menu offers a wide variety of western foods, Dal Bhat is the most common food during the trek.
Packing list for Manaslu Circuit Trek
If you're planning to experience the joy of trekking to the remote and rural areas of Manaslu, make sure you're carrying the right gears. While deciding what to pack for the trek can be difficult, it is important to consider how and when you plan to travel.
Since Manaslu region does not allow individual travelers, you will need to hire a guide or porter or both. The porter will carry the almost all of the weight, leaving you with just the daypack. Hiring a porter does not mean that you should bring everything you can think of for the trek.
Despite the fact that you will have someone help you with your luggage, make sure to pack your bags with right equipment.
Here are some of the essential gears you should bring with you on your trek to the Manaslu Circuit:
Bags:
Clothing:
Trekking Shirt
Trekking Trousers
Base Layer
Insulation Layer
Outer Layer
Waterproof Shell Jacket
Breathable Underwear
Footwears:
Hiking Boots
Trainers/Sandals
Hiking Socks
Thermal Socks
Head Wears:
Sun Protection Hat
Beanie
Buff/Neck Gaiter
Hand Wear:
Inner Gloves
Outer Gloves
Sleeping Bags
Travel Insurance for the Trek
We recommend you to get travel insurance before starting your trek on the Manaslu Circuit. Unlike most trekking routes in Nepal, trekking in Manaslu region is quite a tough and requires serious dedication.
Due to the remote and isolated trek, there are no proper health posts along the way. If any trekkers develop severe health problems, the only way out of this trek is by helicopter.
Make sure to buy travel insurance that includes all the necessary medical expenses, helicopter evacuation, trip cancellation charges, lost, and natural disasters. If you're looking for a good travel insurance company, we recommend World Nomads.
Useful Tips for Manaslu Circuit Trek
Manaslu Circuit is one of the most remote and difficult treks in Nepal. Please ensure to prepare yourself both physically and mentally before heading off to the wild.
Elevation is a constant threat. As this highest elevation point of the trek is a whopping 5,135m, it is essential to acclimatize well, take every precaution, and stay hydrated throughout the trail.
The trails in the Manaslu area are not appropriately marked. Keep an eye on the trail. Always walk with a guide/porter and do not walk alone on the trail.
There are many landslide-prone areas in the region. Be careful and keep an eye out for rocks!
When it's wet and snowy, the trail can be a little risky. As a result, invest in high-quality walking boots and make sure to pack wisely for the trek. Drinking water may not be safe to drink directly from the tap. A water purifier is a must-have.
Not all guesthouses have charging facilities. It would be useful to have a portable charger with you.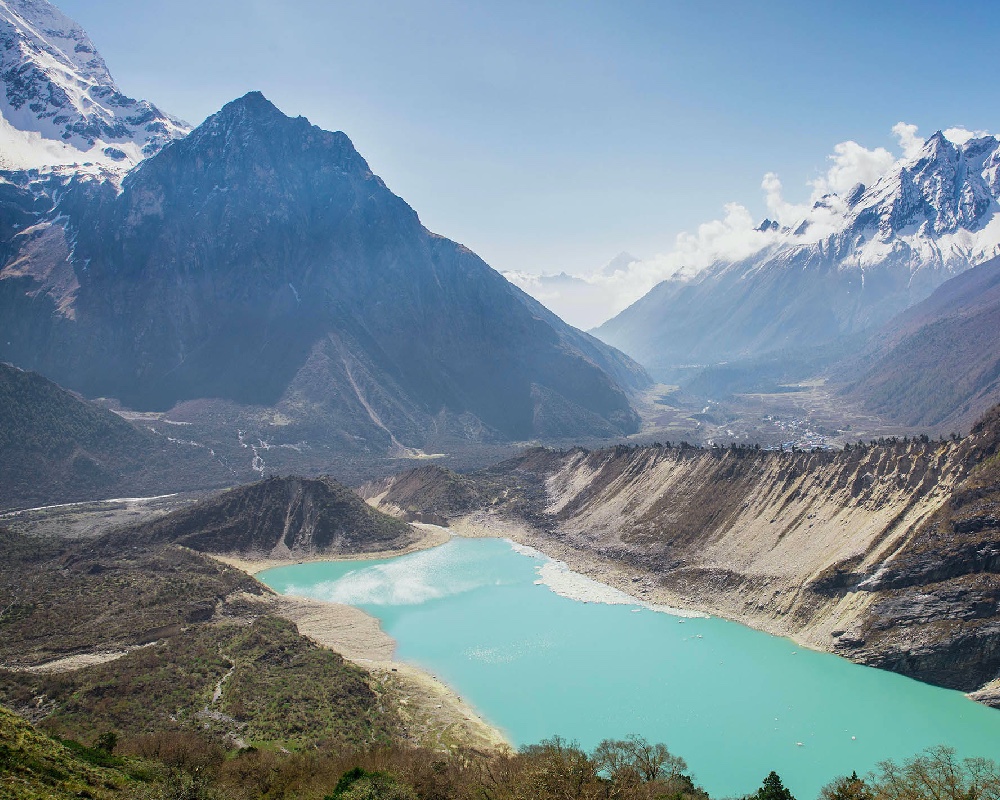 Frequently Asked Questions (FAQ)
1. How difficult is Manaslu trek?
Although the Manaslu Circuit Trek is tough and challenging trekking routes in Nepal, this trek is totally doable. However, you have to maintain a certain level of health and fitness to do this trek. Be aware! As this is a high-altitude trek, you are also at risk of suffering Acute Mountain Sickness (AMS).
2. Can I do Manaslu Circuit Trek alone?
No, the Nepal government does not permit solo or independent trekking in the Manaslu region. As per the government's rules, it is compulsory to have a minimum of two trekkers accompanied by either a guide or a porter to trek in the Manaslu area.
3. What is the standard of accommodation in Manaslu region?
The lodges in the Manaslu Circuit are basic, with two single beds and no heating. The toilets are normal and on sharing basis throughout the trek. The guesthouses provide a hot shower but will charge you extra bucks for it.
4. Is it safe to drink water on the trek?
No, the water in guesthouses is mostly from taps or streams, and it is not safe to drink directly. Throughout the trail, bottled water is also available. However, bottled water is slightly expensive and adds more trash in the area. Therefore, we strongly recommend you to bring a water purifier or tablets.
Conclusion
Manaslu Circuit Trek is a fantastic alternative to commercial trekking routes like Annapurna and Everest Base Camp. Manaslu, located in the remote Himalayan region of Nepal, is a haven for adventure seekers and avid trekkers. In addition, if you're looking for a more adventurous trip you can combine this Manaslu Circuit Trek with Larke Peak climbing.
As this is one of the most challenging treks of Nepal, this trek requires a good commitment and physical fitness. To start organizing a private trip, click here to get started.