How Hard Is Everest Base Camp Trek?
The Everest Base Camp (EBC) Trek is one of the dream adventures for many people. Nestled in the heart of the Himalayas, this trek is a pure adventure that follows up with the scenery of snow-capped peaks such as Mount Everest, Ama Dablam, Nuptse, Lhotse, and Cho Oyu. Similarly, this trek is ideal for cultural immersion, breathtaking views, and other adventures.
That said, the Everest Base Camp also comes with several difficulties, and trekkers are required to go through strict preparations before they embark on this trek. Here are some of the difficulties and safety tips for trekkers that might help them have an enjoyable trekking experience.
Difficulty Level of Everest Base Camp Trek
The difficulty level of Everest Base Camp Trek is moderately difficult. Featuring some of the most difficult sections on some easy and convenient trails, the Everest Base Camp comprises a soothing trekking experience.
The first thing to remember is that the average duration of the Everest Base Camp Trek is 14 days, which is a long journey. Similarly, another important thing to acknowledge is that the trail to EBC is rugged, remote, uneven, and steep. Last but not least, the average duration of hikes that trekkers need to walk daily is around 6 to 7 hours. Compiling all these requirements, hiking for such a long time in uneven terrains for 14 days is very exhausting.
Apart from that, Everest Base Camp Trek takes trekkers 5000 meters above sea level, where the oxygen level is minimal and the air pressure is high. Due to this, trekkers can have difficulty breathing and even suffer from altitude sickness and other related illnesses. Moreover, the extreme weather conditions of the Everest Base Camp region might be a barrier to a safe and comfortable journey. The Everest region features unpredictable weather conditions featuring strong, sharp winds, low temperatures, and low oxygen levels. So, trekkers must be prepared with everything they have during the Everest Base Camp Trek.
In simple words, the Everest Base Camp is considered moderate to difficult. It suits trekkers with good physical fitness, strength, endurance, and stamina. In the meantime, it is essential to acknowledge the factors that can make the trek difficult, such as weather conditions, altitude, and physical fitness.
Challenges of the Everest Base Camp Trek
Altitude Sickness
Altitude sickness is one of the major challenges trekkers face while they scale up to the Everest Base Camp Trek. We all know that the Everest Base Camp trek leads us to 5000 meters above sea level. And it is to acknowledge what kinds of health hazards such high altitude might bring. Health concerns like AMS (Acute Mountain Sickness), HAPE (High Altitude Pulmonary Edema), and HACE (High Altitude Cerebral Edema), are some of the common ones trekkers might suffer from.
The high-altitude locations are deprived of oxygen. They feature low oxygen levels with high air pressure, which might lead to difficulty in breathing. The human body might not feel good when exposed to such high altitudes. It takes time for our body to adapt to the reduced oxygen levels. So it is recommended to take necessary precautions.
Harsh Weather Conditions
The Everest Base Camp lies in the Himalayan region, and we all know that the weather conditions of the Himalayas are unpredictable. Trekkers may frequently encounter weather and climate conditions, such as snowfall, rainfall, sub-zero temperatures, and sharp winds. Especially in high-altitude locations, such as Lobuche and Gorakshep, the winds are very high, and the temperatures fall under 0 Degrees Celsius.
Similarly, the monsoon season brings heavy rainfall and other natural phenomena, including landslides and floods. Similarly, the winter season comes with heavy snowfall and avalanches in some areas. All these issues make it difficult to navigation as the trail becomes wet and the grip you need in the steep landscapes fades away.
It is very essential to prepare yourself with insulated, waterproof, and windproof clothes, sturdy hiking boots, and essential trekking gear. On top of that, please go through the weather forecast of the Everest region and prepare accordingly for the sudden weather changes.
Physical Endurance
As we discussed above, trekkers are required to walk for around 6 to 7 hours daily for around 14 days during their Everest Base Camp Trek. Just imagine walking for such long hours in steep and rugged terrains. Would you do it without any preparations? No, you wouldn't.
And the answer is simple: The Everest Base Camp trek requires a high level of physical fitness, endurance, strength, and stamina. It might be quite uneasy for beginners who do not have any prior trekking experiences in high-altitude locations. The simple thing is walking through the remote trails is physically exhausting, and the high altitude factor, on top of that, plays a vital role in having the symptoms of altitude sickness.
So, trekkers must have cardiovascular energy and training with altitude exposure and others. Short treks, cycling, gym workouts, and a proper diet will help you gain enough strength.
Accommodation and Facilities
The peak season to trek to the Everest Base Camp is March, April, and May in Spring. The most important thing trekkers should acknowledge during their trek in Spring is that it is the season when the Everest Base Camp trail is crowded. By this, you will have less access to the available lodging and food facilities around the region.
Since the trail is heavily crowded, it is difficult to manage tea houses or guest houses for accommodation. Sometimes, trekkers even have to carry their tents, set them up, and stay overnight to adapt to the gap of accommodation unavailability.
Isolation and Limited Medical Facilities
There are several stops in the trail of Everest Base Camp, but you should be very careful about your journey. There are few stops featuring the necessary medical facilities since the destination is located in a very remote area of the Solukhumbu district.
So, it might be difficult for trekkers to get essential medical help and rescue services in emergencies.
Essential Safety Tips for the Everest Base Camp Trek
Prior Training and Fitness
The Everest Base Camp Trek must have prior experience in trekking. Also, prior experience in exposing yourself to the high altitude locations is a plus. This trek requires high physical fitness and stamina, so trekkers should train with cardiovascular fitness and leg strength.
Also, trekkers are urged to have altitude training and be focused on lung exercises. This will help them minimize the risk of altitude sickness and difficulty breathing during the trek.
Adequate Acclimatization
Acclimatization is one of the essential parts of high-altitude trekking. During the Everest Base Camp Trek, the acclimatization day is separated while you are in Namche Bazaar and Dingboche or Tengboche. Acclimatization helps trekkers to adapt to the changing altitudes, i.e., high altitude. It also regulates blood circulation and helps eliminate unforeseen physical circumstances.
There are several ways to acclimatize. Here are some of the tips:
Gradual Ascent.
Ascent high and sleep at a lower altitude.
Proper diet and nutrition.
Enough sleep and rest.
Hydration.
These tips are essential for acclimatization. Trekkers should take their trek very slowly and lower their altitude for overnight sleep. On top of that, they must have enough sleep and rest and focus on plenty of hydration. Some trekkers even use a medicine called 'Diamox' to avoid altitude sickness and other related illnesses.
Proper Gear and Clothing
Everest Base Camp is usually a cold location, where the temperature might decrease to 0 Degrees Celsius. Similarly, extreme weather conditions such as sharp winds, rainfall, and snowfall make it difficult to withstand the environment.
Trekkers are recommended to pack the following gear and equipment to ensure their safety during the Everest Base Camp Trek:
Moisture-wicking, breathable long-sleeve tops and bottoms.
Fleece jackets or down jackets for warmth.
A waterproof, windproof jacket and pants.
Lightweight, quick-drying pants for daily trekking.
Moisture-wicking, breathable shirts for trekking.
Insulated, waterproof gloves and a pair of liner gloves.
Sturdy, waterproof, and comfortable trekking boots.
Moisture-wicking, thick socks.
A comfortable and durable backpack (30-40 liters).
A four-season sleeping bag rated for cold temperatures.
An insulated, lightweight sleeping pad.
Adjustable trekking poles.
High-quality sunglasses with UV protection.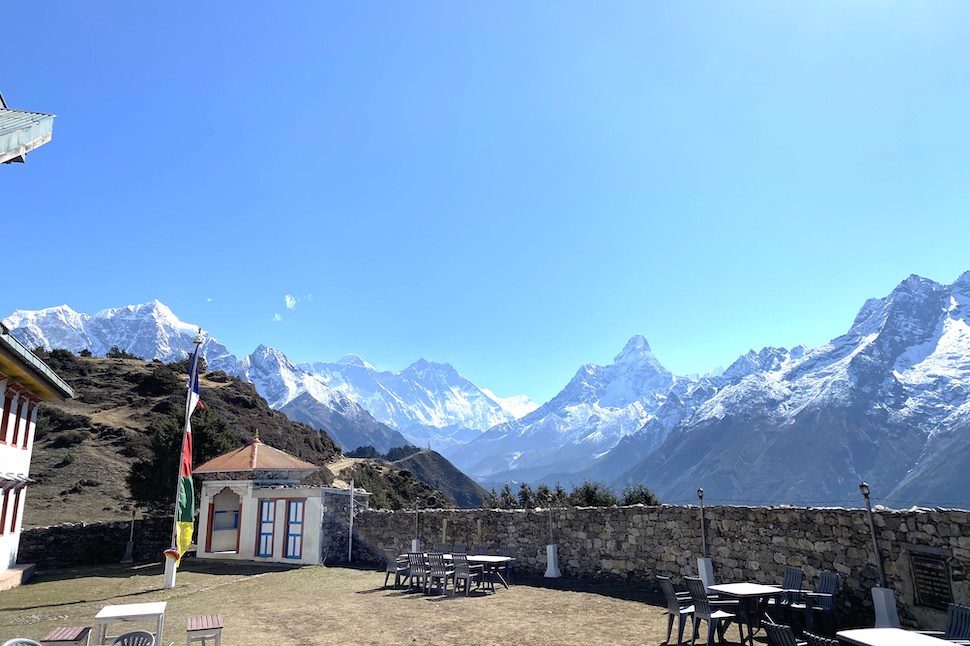 Conclusion
The Everest Base Camp might be one of the most intriguing treks in Nepal. But it also has several difficulties and challenges that come alongside the adventure and fun.
Trekkers should acknowledge factors such as altitude, weather, and time of the year before they embark on the Everest Base Camp trek. The challenges like physical and mental difficulties, high altitude, and uneven terrain are the common ones in this trek, so it is a better idea to prepare the most for it. So, trekkers can delve into an enjoyable trek to the foot of the highest peak in the world.
You Must Go Through These:
Best Time To Trek Everest Base Camp
Everest Base Camp Weather