Best Time To Trek Everest Base Camp
Everest Base Camp Trek is undoubtedly one of the most popular treks in Nepal. Nestled within the Sagarmatha National Park in Solukhumbu District, this destination offers magnificent views of Mount Everest, Ama Dablam, Nuptse, Lhotse, and many more. It is one of the most challenging treks in Nepal, which takes you over 5000 meters above sea level. So, the preparation has to be at its optimum level.
When talking about preparation, choosing the best time to trek to Everest Base Camp has a huge role in an enjoyable and successful journey. Trekkers must acknowledge their expectations from the trek and know when to travel to EBC. In addition, safety is the priority – so which timeframes are considered best that can be enjoyable and ensure your safety? Here is a short blog regarding the best time to trek Everest Base Camp. Have a look!
Best Time To Trek Everest Base Camp
The best time to trek Everest Base Camp might differ from one trekker to another. As the choice and preferences of the trekkers make a huge impact, the best time to trek to EBC may vary. For example, people want to explore the EBC during the off-trekking seasons like monsoon and winter. Some trekkers embark on the journey during the peak seasons like Spring and Autumn. Simply, the choice of your trek and expectation makes a huge difference.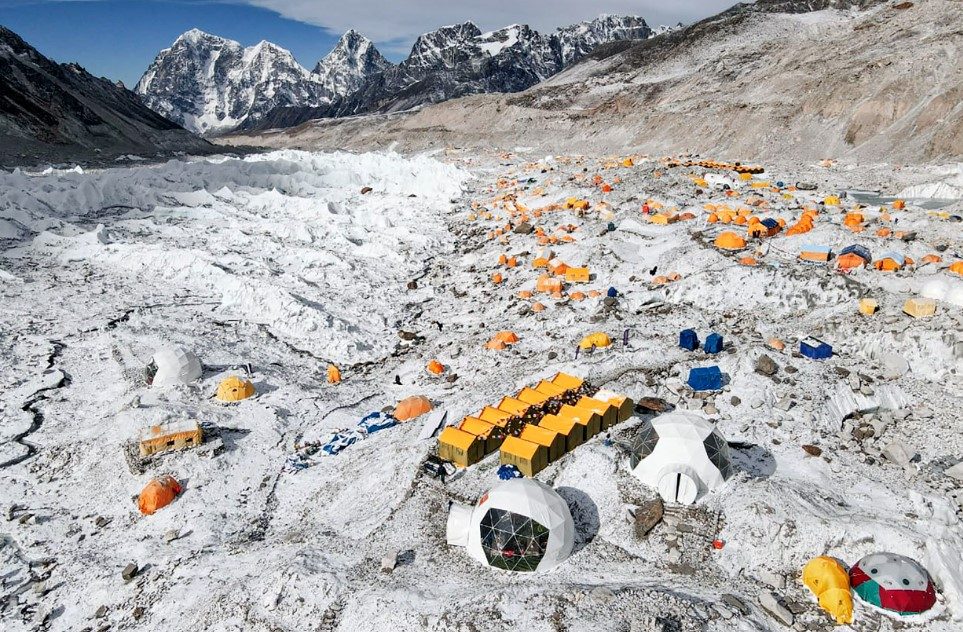 But in terms of the weather and climate favorability, Spring and Autumn are considered the best time to trek Everest Base Camp. Here are some reasons behind it. Let's explore them in detail:
Spring Season (March to May) – Best Time for Trekking
Spring is not considered the best time to trek to Everest Base Camp for no reason. It has some exciting and favorable conditions, making it the popular timeframe to embark on the trek in Nepal.
Spring starts in March and ends in May; during these three months, the weather is usually stable. This allows trekkers to have a soothing experience with minimal chances of backlashes and issues.
When discussing stable weather, the location's temperature, climate conditions, and serenity make a huge difference. During the timeframe of March to May, the temperature is usually moderate, not too hot and not too cold. During the daytime, the Everest Base Camp's average temperature can range between 17 °C to 25 °C. But, the night in the Everest region might be a little harsh. As you reach an altitude of over 4000 meters above sea level, the temperature drops to -15 °C and even more during the nighttime. So, it is essential to prepare the best for staying overnight at tents around the Everest region.
| | |
| --- | --- |
| Average Temperature During Day | 17 °C to 25 °C |
| Average Temperature During Night | -15 °C |
In addition to moderate temperature, Spring offers one of the most scenic views of the Everest Region. The skies are clear with fewer clouds, and it offers a gateway to the magnificent views of the snow-capped peaks, such as Mount Everest, Ama Dablam, Cho Oyu, Lhotse, Nuptse, and Island Peak. Not only that, the Everest region is rich in glaciers and ice falls, like the Khumbu Glacier.
Moreover, the green vegetation around the Everest Base Camp trail, valleys, waterfalls & streams, and the stunning landscapes are some prominent things you can overview during Spring.
Apart from these, Spring is the season of colors. It means the forests are in full bloom, and trees change their leaves, offering trekkers the colorful scenery around the region. The rhododendron forests burst into vibrant colors, making it an ideal scene for photography and videography.
In addition, there is less chance of rainfall and snowfall in the region during Spring. It offers a soothing experience in navigating through the remote and rugged trail of the Everest Base Camp. The routes are usually dry and crisp, which is helpful in easy traversing without leading to any unforeseen circumstances like an injury.
Advantages of Trekking in Spring
Optimal Weather
Stunning Scenery
Comfortable Temperatures
Autumn (September to November) – Another Ideal Time for Trekking
Depending on the favorability of the weather and climate conditions, the Autumn season is another great time to trek to Everest Base Camp. Autumn starts in September and ends in November, and these periods have similar features to Spring.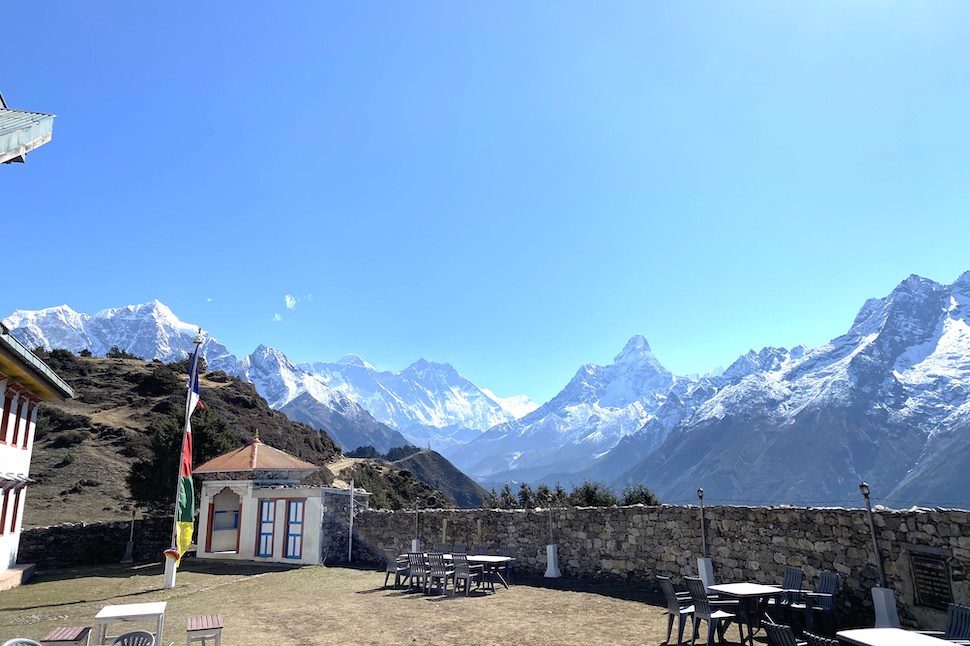 Autumn brings vibrant environmental conditions around the Everest Region. Even though the initial phase of Autumn features sparse monsoon rain, the mid and late Autumn are best for trekking to Everest Base Camp. It also comes with a mild temperature, making hiking through the uphill trails convenient. The average temperature of Everest Base Camp during the daytime ranges anywhere between 12 °C to 16 °C while the nighttimes are a little too harsh, with an average temperature of 5 °C to -14 °C.
| | |
| --- | --- |
| Average Temperature During Day | 12 °C to 16 °C |
| Average Temperature During Night | 5 °C to -14 °C |
So it appears that trekkers must be very strict while preparing for the trek, even in Autumn Season. The packing list should be very climate-friendly, i.e., it should withstand the cold temperatures of the Everest region.
Similarly, the three-month time of Autumn Season brings a soothing environment to the plate. While the temperatures are moderate in the Everest Base Camp region, the skies are clear, and the clouds are in smaller volumes. It is a perfect chance to see the natural and cultural perks of the Everest Region. The mystic mountain peaks like Mount Everest and Ama Dablam and the other natural richness, including flora, fauna, rivers, waterfalls, green valleys, and traditional settlements, are worth-watching during Autumn.
Moreover, Autumn brings a festive environment as well. The major festivals of Nepal, including Dashain and Tihar, fall under this season, which offers a perfect chance for cultural immersion. During these celebrations, Trekkers can delve deep into the understanding of Nepalese society, Hindu culture, and tradition. Simply, they can understand more about Nepal and its vibrant social structures.
Besides, Autumn also has less chance of monsoon rain and winter snowfall. By this, we can understand that there is less chance of dealing with natural phenomenons like landslides, avalanches, and stream floods, which can impact badly in navigating through the Everest Base Camp Trail.
Advantages of Trekking in Autumn
Clear Skies
Mild Weather
Festive Atmosphere
Off-Season Trek To Everest Base Camp
Off-season treks are usually launched during the monsoon and winter seasons in Nepal. These treks are budget-friendly, and the destination during the timeframe of this season is not crowded. It can offer privacy to your journey as well as offer you a wide range of accommodation and food facilities in the Everest Region.
Winter (December to February)
Trekking in winter is only done at a smaller rate. Most trekkers prefer peak seasons like Spring and Autumn for their journey in the Everest Region. However, adventure enthusiasts and daring trekkers often choose the winter season.
Trekking in winter can have several benefits. The prices are relatively lower than the peak season. Similarly, the availability of guides, porters, accommodation, and food services is higher. If anyone is looking for a budget-friendly EBC Trek, trekking in the monsoon can be ideal.
In the meantime, the winter treks are also very risky and challenging. The possibility of heavy snowfall and avalanche are high during this timeframe. Similarly, the extremely low temperature can lead you to several hazards like frostbite, altitude sickness, and more.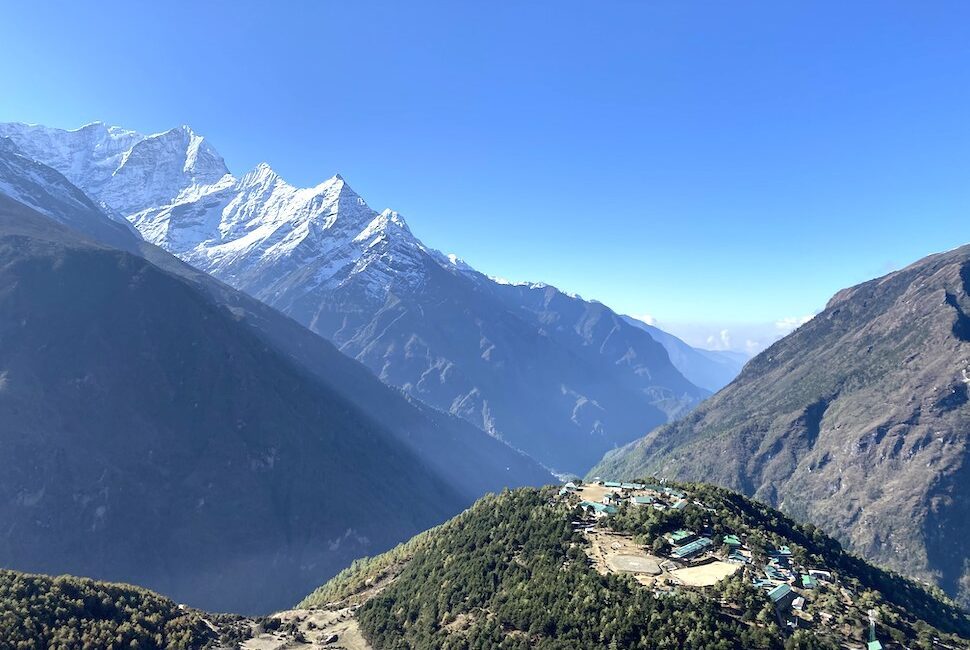 Advantages of Trekking in Winter
Serenity
Panoramic Views
Budget-Friendly
Availability of Logistics, Accommodation, and Food Services.
Monsoon (June to August)
Trekking to Everest Base Camp during monsoon season is not recommended. As Everest Base Camp lies in the Himalayan region, its land topography is steep and uphill. And as the heavy monsoon rainfall hits these landscapes, the chances of landslides and stream floods are very high.
This not only affects the soothing trekking experience but also can be a threat to trekkers' lives and property. Monsoon season is the least favorable time for trekking to Everest Base Camp. It includes the months of June, July, and August.
Disadvantages of Trekking in Monsoon
Unpredictable Weather
Limited Visibility
Muddy Trails
You Might Like These: