Everest Base Camp Trek in November
Everest Base Camp Trek in November is an intriguing package for trekkers to fantasize about this time. Especially the Autumn season has already started, opening gateways to the base of Mount Everest. So, it is no wonder that trekkers are likely to journey to this incredibly beautiful destination in Nepal.
If you're an adventure enthusiast, it's not a different story of having fantasy over standing in the lap of the world's highest peak, Mount Everest. But what differs in the story is the level of preparation and strategic plan to reach the Everest Base Camp. Of course, the Everest Base Camp Trek is one of the major dreams for global trekkers and adventure seekers. As it offers one of the most unique ways to explore the beauty of the Himalayas and the Himalayan culture, tradition, and natural richness, it stands as the leading trekking destination in the world.
When it comes to preparation, choosing the right time to trek to the Everest Base Camp does ring the bell. And what would be the best time to trek to the Everest Base Camp rather than in November? Usually, most trekkers are likely to embark on this journey during the Spring seasons, including March, April, and May. But if you have missed those timeframes, November is an ideal month to travel.
The Everest Base Camp Trek in November is a great opportunity to explore Northern Nepal's beauty, including the snow-capped peaks of Mount Everest. The magnificent views of Ama Dablam, Cho Oyu, Nuptse, and Lhotse are breathtaking. November is the last month of the Autumn Season in Nepal, so there might be a slight touch of cold temperatures. However, with proper preparation and gear, trekkers can easily take on this journey without issues.
Why Everest Base Camp Trek In November?
November is an optimal time to embark on the Everest Base Camp trek. The monsoon season has already come to an end, and the weather is relatively stable. The skies are clear, and the temperature is moderate during the day, making it perfect for hiking. In addition, the trails are less crowded compared to the peak trekking season in the spring, allowing you to enjoy the beauty of the Himalayan landscape.
Favorable Weather:
November is considered one of the best months for the Everest Base Camp trek in terms of weather. It falls in the Autumn seasons, the second most preferred time for trekking in Nepal. Similarly, the skies are generally clear with minimal rainfall and the days are sunny and pleasant, while the nights can be chilly but not too cold, making it a comfortable time to trek.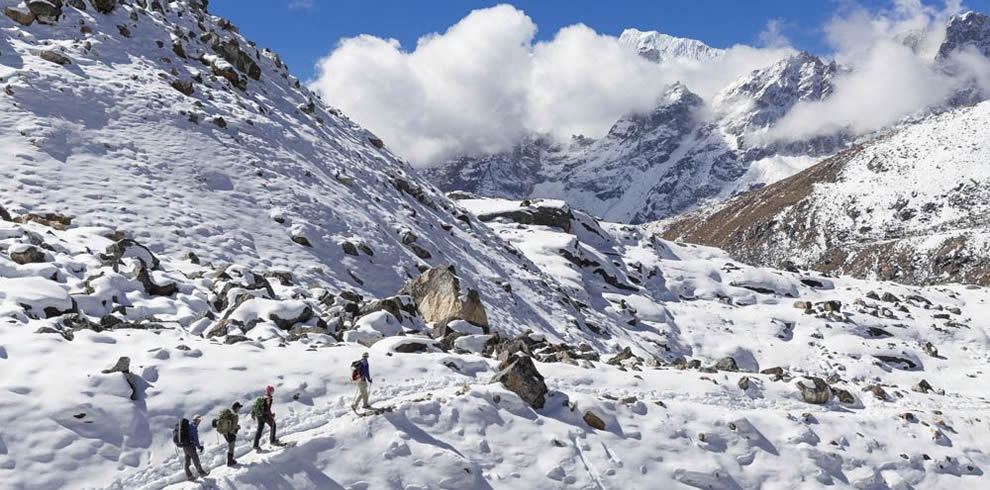 The temperature is also mild, which makes the long hike very comfortable and soothing. Here is a table portraying the temperatures at different locations of Everest Region:
| | | | | |
| --- | --- | --- | --- | --- |
| Location | Altitude | Avg. Temperature | Min. Temperature | Max. Temperature |
| Lukla | 2,829 m/9281 ft | 6.5°C | 0.9°C | 12.2°C |
| Namche | 3,463 m/11,361 ft | 2.9°C | -3.4°C | 9.2°C |
| Dingboche | 4,483 m/14,708 ft | -2.9 °C | -11°C | 5.3°C |
| Lobuche | 4,910 m/ 16100 ft | -5.5°C | -13.8°C | 2.8°C |
| Gorak Shep | 5180 m/ 17000 ft | -6.6°C | -14.9°C | 1.8°C |
Stunning Scenery:
As said earlier, November features clear and visible surroundings, which offers views of the Himalayan peaks. The mystic mountain peaks of Mount Everest, Cho Oyu, Nuptse, Lhotse, and Ama Dablam, are some of the prime attractions. Similarly, the beauty of Khumbu Glacier and Icefall are not to be missed as the main attractions of Everest Base Camp Trek in November.
Apart from these, Everest Base Camp Trek in November is a great opportunity to have the serene views of the traditional villages, cultural and religious landmarks like ancient Tibetan Monasteries and temples. The Bhote Koshi River, lush green forests inside Sagarmatha National Park are some other examples.
Less Crowded:
Everest Base Camp Trek in November is preferred because it is not much crowded like the Spring Seasons. Most trekkers prefer the months of March, April, and May for trekking in Nepal. November also comes in the list but it is not much rich in trekking clients like the months of spring.
Less crowded means that you'll have a more peaceful and enjoyable trek with fewer trekkers on the trail and less competition for accommodations.
Less Risk of Natural Hazards:
Unlike the monsoon and winter season, November is a naturally blessed month for trekking in terms of risk of natural hazards. During the winter, there is a high chance of snowfall and avalanches, while the monsoon brings heavy rainfall, landslides, and floods. These obstacles bring risk to the life of trekkers and on navigation.
But, November has a less chance of rainfall and snowfall, which decreases the risk of natural hazard. This month also has more stable snow conditions, reducing the risk to trekkers.
Cultural Encounters During Everest Base Camp Trek in November
Sherpa Hospitality
The Sherpa people, known for their warmth and hospitality, are an integral part of the EBC trek experience. November is an excellent time to engage with the local Sherpa communities, as they are not too busy with the rush of tourists. You can learn about their unique culture, traditions, and even share a cup of traditional Sherpa tea.
The traditional culture and lifestyle of the Sherpa people are worth learning during Everest Base Camp Trek in November. Similarly, they do have their own mother-tongue, cuisine, and special greetings to the tourists, which are undeniable and very warming.
Ancient Tibetan Monasteries
On the trail of the Everest Base Camp, trekkers will come across several ancient Tibetan Monasteries, which reflects Buddhism and its practice throughout the centuries. Tengboche Monastery, Pema Choling Monastery, Rimishung Monastery, Khumjung monastery, Pangboche Monastery, Deboche Ani Gumba, and Monastery at Chheplung are some of them.
The November season often features religious festivals and ceremonies that you can witness, offering a glimpse into the spiritual life of the Sherpa people.
Naturally Blessed Everest Base Camp In November
Everest Base Camp Trek is located within the Sagarmatha National Park. It is a protected land area established in 1976 and is home to many endangered animals, birds, and other species.
As per the national report, around 118 species of birds including Impeyan pheasant, crimson-headed pheasant are found in the Sagarmatha National Park. Similarly, endangered animals like snow leopard, red panda, Himalayan Tahr, musk deer, Himalayan black bear, Wolf, and Goral are the inhabitants of this region.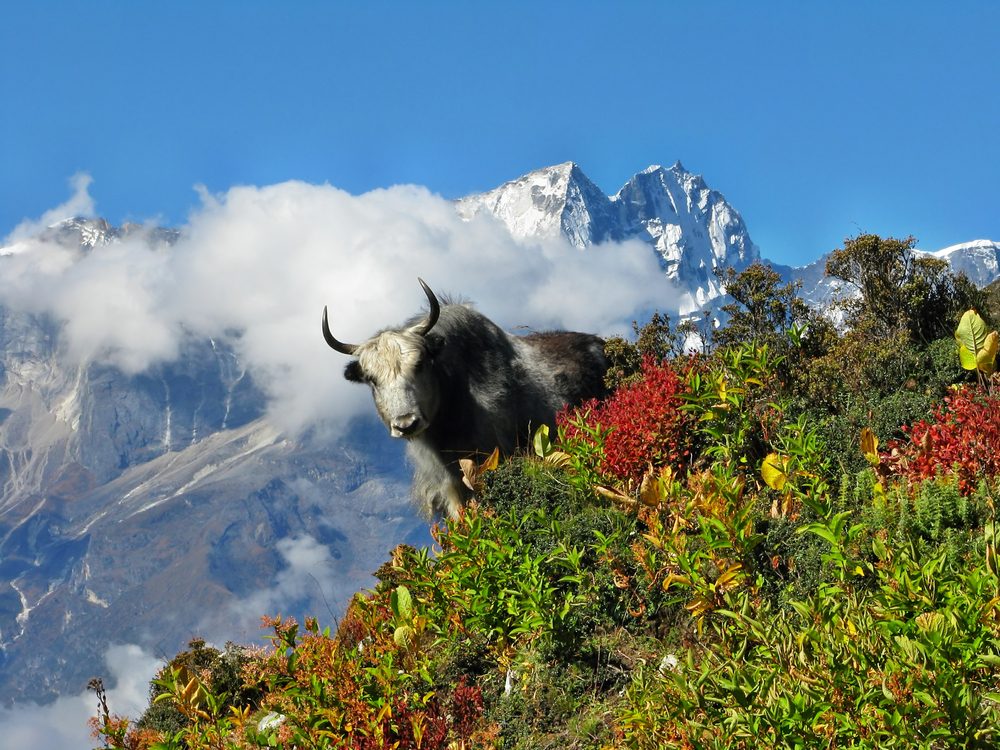 The park's alpine and sub-alpine regions boast a rich diversity of plant life, with rhododendron forests painting the landscape in vibrant colors during the spring. The park is characterized by massive glaciers like the Khumbu Glacier and the Ngozumpa Glacier. These icy giants flow down from the high peaks, carving out dramatic valleys and creating a unique ecosystem.
The rugged and challenging terrain of Sagarmatha National Park attracts adventure seekers and trekkers. Trekking routes like the Everest Base Camp trek and the Gokyo Lakes trek offer thrilling experiences and breathtaking vistas at every turn.
Frequently Asked Questions
Do I need permits for the Everest Base Camp Trek in November?
Yes, you will need permits for the Everest Base Camp Trek in November. These typically include the Sagarmatha National Park Permit and Khumbu Pasang Lhamu Municipality Entry Permit. But you do not need the TIMS (Trekkers' Information Management System) card. Your trekking agency will assist in obtaining these permits.
Are the trails crowded in November?
November is a popular trekking month, so you can expect some crowds, especially on the main routes. However, it's not as crowded as the peak trekking months of Spring, including March, April, and May.
What should I pack for the Everest Base Camp Trek in November?
You should pack essential items like warm down jackets, thermal layers, and good quality trekking boots. Similarly, trekking poles, backpacks, sleeping pads, and sleeping bags are crucial.
How physically demanding is this trek?
The trek is physically demanding as you'll be hiking at high altitudes over 5000 meters. But with proper preparation and a good level of fitness, it can be done effortlessly. But remember, it is always essential to acclimatize properly and take it slow to prevent altitude sickness.
Is it necessary to hire a guide and porter for this trek?
It is not mandatory to hire guides and porters but it is recommended. Hiring guides will help you in navigating through the remote trails of Everest Base Camp. Similarly, porters will erase your physical burden by helping you carry your luggage and backpacks.