Upper Mustang Trek Difficulty
A moderate grade Upper Mustang trek has difficulties in terms of a few factors. However, if you are physically healthy and keen to explore the trans-Himalayan region, the trek is absolutely doable.
It is suitable for people of all ages, especially families with children and the elderly. A jeep transfer service is available for anyone who is unable to walk in the middle of the journey. As a result, this journey is both safe and convenient.
Mustang is a great hiking and adventure holiday destination in Nepal. The area offers glimpses of unspoiled nature and landscapes that are unlike any other in Nepal.
There are many cultural and linguistic similarities between Mustang and Tibet. Although it is situated in the Himalayas, the region is a mix of snow-capped mountains and desert lands.
Upper Mustang is located in the rain shadow of the Annapurna and Dhaulagiri mountain ranges. Trekking is thus possible in this region even during the summer season. However, it is best to add a day or two for travel disruptions due to weather conditions in the lowlands area.
The Upper Mustang trek is ideal for most trekkers with no restrictions. However, this journey generally requires a fair level of fitness.
Upper Mustang Trekking Hours and Duration
The terrain in Upper Mustang is not too difficult. The walking hours on average is between 5-7 hours, per day. The trip duration is usually around 17 days.
However, depending on your preferences, you can make the trek longer or shorter. Lo-Manthang and Chooser are some of the region's main attractions Hiking at a higher altitude is certainly more difficult than hiking at a lower altitude.
As a result, you'll need to prepare to adjust to the high altitude. This makes your journeys easier. Well, hiking to Upper Mustang is not difficult and it's doable.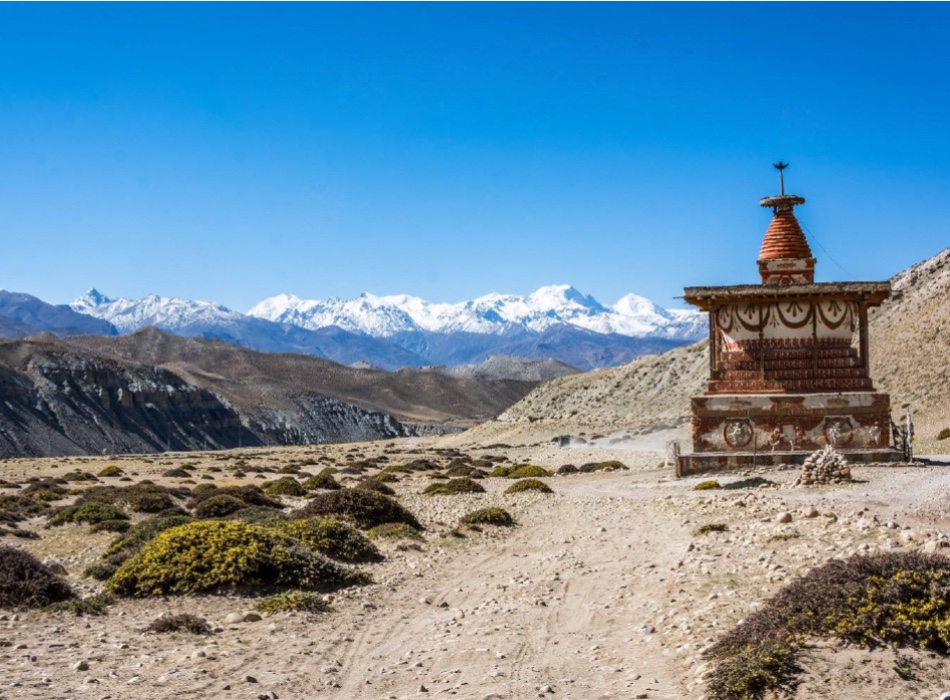 Upper Mustang Weather and Seasons
The weather and temperature play a major role in determining the difficulty of the trek. Upper Mustang, like other places has four seasons: spring, summer, autumn and winter.
The spring season is a perfect time to trek Upper Mustang. The average daytime temperature during this season ranges from 16 to 22 degrees celsius. This time of year, the weather is pleasant, with a clear view of the mountains and the Himalayas. The temperature at night ranges from 0 to 2 degrees celsius.
This is a great weather for trekking, making your journey much easier.
During this season, there are a lot of tourists. The Tiji festival, one of Upper Mustang's most important festivals, is also held during this season.
Because the Upper Mustang is in the rain shadow region of the Annapurna range, it rarely rains during the summer. As a result, you will be able to enjoy the dry and moderate weather at this time of the year.
The day temperature ranges from 13 to 20 degrees celsius on average. The temperature decreases to -2 to 0 degrees celsius at night.
Autumn is also the best time to trek Upper Mustang. Autumn offers great visibility. The temperature ranges from 12 to 20 degrees celsius during the day and -5 to -3 degrees celsius at night. This will not be an issue because you will be indoors in the mornings and evenings.
During the winter, Upper Mustang goes into hibernation. The average temperature during the day is 0 to 8 degrees celsius, and the average temperature at night is -20 to -15 degrees celsius.
The Upper Mustang experiences heavy snowfall during the winter. Trekking in this area of Mustang during this season would be challenging. Attempting this trek without the right gear and equipment could be difficult.
As a result, hiking in Upper Mustang is not challenging; simply choose the right season.
Altitude sickness While on the Upper Mustang Trek
Upper Mustang trip takes you to an elevation of 3900m, thus altitude sickness may not be an issue. Because altitude sickness is uncommon at altitudes below 4000m, being aware of the situation is always important.
Diamox and other altitude sickness medications are helpful. Also, descending at a lower altitude is the best approach. To take the appropriate precautions, always seek assistance from the guides or team leaders.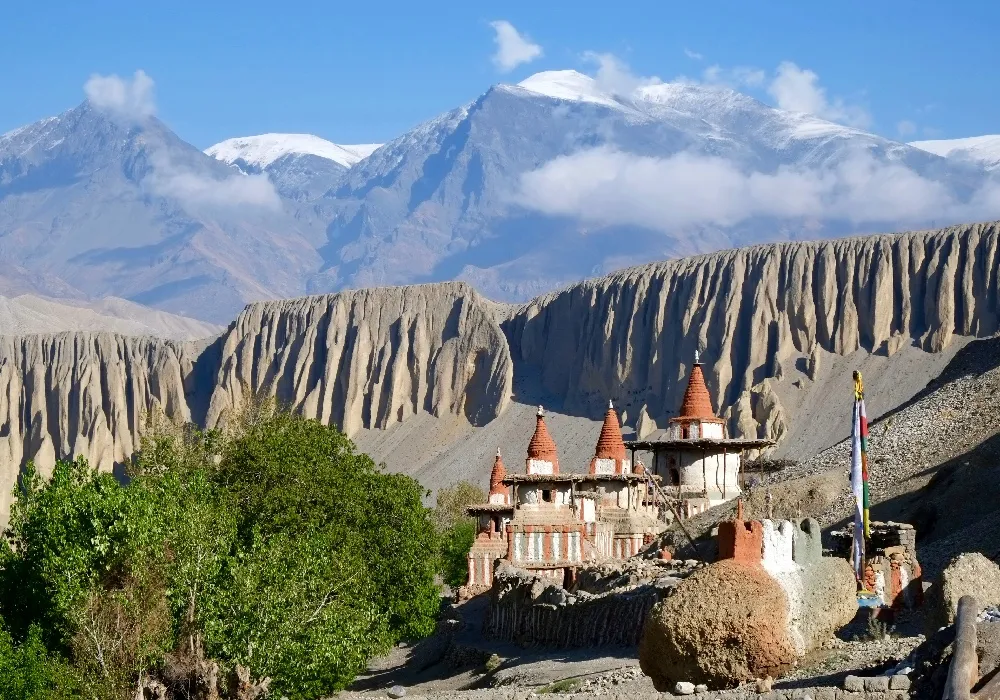 Physical fitness required for the Upper Mustang
There is no need for previous trekking experience. Trekkers, on the other hand, should get into a program of walks and jogs a few weeks/months in advance.
It helps in increasing stamina at high altitudes and preventing shortness of breath. This, in fact, simplifies your journeys.
Before going on the trek, you should visit your doctor if you have any pre-existing medical concerns, such as heart, lung, or blood disease.
Upper Mustang Trek – Hiring Guide and Porter
Some trekking trails in Nepal may not require a guide. In the Mustang region, however, you must be accompanied by a certified Sherpa trekking guide. A guide will help you in dealing with an emergency and being safe.
Hiring a porter will help you in many ways. It will make your journeys much easier. You will be able to enjoy nature and beauty without worrying about your weight.
Food and Lodging during the Upper Mustang Trek
Upper Mustang is a remote region in Nepal. So, food in this region is often more expensive than food in Kathmandu.
Upper Mustang has several guest houses and hotels. Thus, finding a place to stay will not be a problem. It all depends on your budget and how much money you want to spend.
How to Reach Upper Mustang Nepal?
There are many options for getting from Kathmandu via Pokhara to Upper Mustang. There are local buses, tourist coaches, daily flights, and even private cars/jeeps.
Taking a flight from Pokhara to Jomsom (Mustang), might be very convenient, making your trip much easier.
Packing Ideas for the Upper Mustang Trek
Packing carefully can make your trip more convenient, pleasant and joyful. Packing varies depending on season.
Hence, it is usually a good idea to check the weather conditions before packing for a journey. Don't overload yourself or the porter. It may be a burden that you will have to carry the entire journey.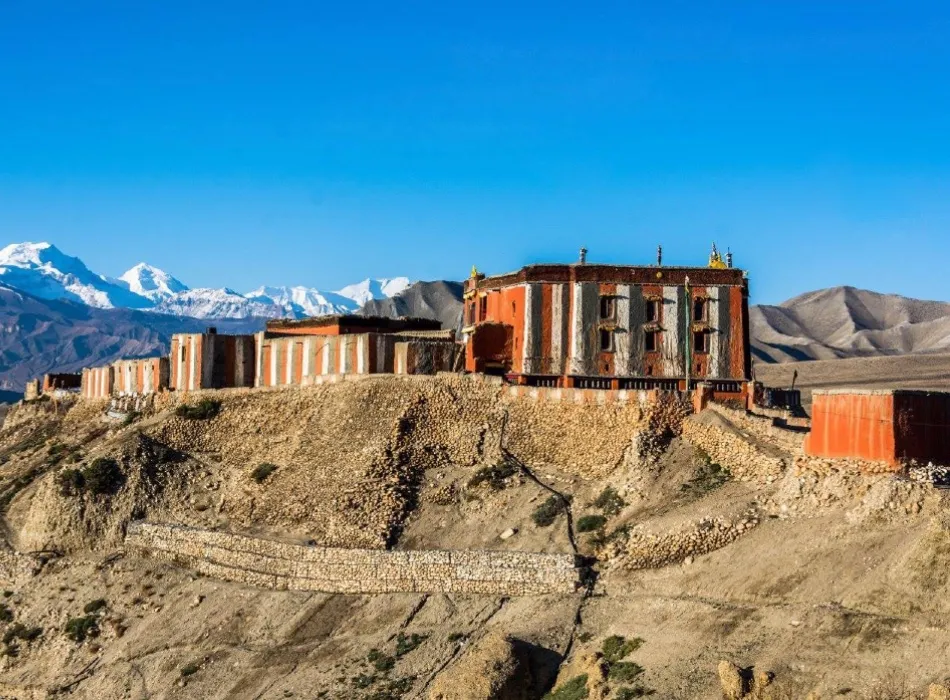 Things to Know before Trekking to Upper Mustang
Walk gently and relax as needed in between walks.
Dress in layers because the temperature changes as altitude changes.
The Upper Mustang route is dominated by a strong wind from the valley's north. Thus, to have windproof gear is highly useful.
Allow extra time to explore local villages and in case of flight delays, mainly during the monsoon season.
During high season, book accommodations and flights in advance.
Keep hydrated. Bring water bottles with you.
In case of AMS, always ask for help.
Final Say,
The Upper Mustang is a moderately difficult trek. It's an exciting journey to a beautiful place. Natural beauty and cultural diversity are at their best in this region.
With a little preparation and determination, anyone can start this journey and experience a trip of a lifetime.
Please contact us if you have any further questions. It would be our pleasure to help you.