Nepal in April
Nepal in April offers the most favorable weather condition for travelers travelling to Nepal. Sunny and clear skies and meadows filled with flower valleys offers the most pleasant environment to every visitor. The weather in this country varying widely between the plains of Terrai, the hills of Kathmandu, Pokhara and the high Himalayas. Some areas remain extremely hot, with the exception of settlements high in the mountain regions.
April is a dry month and almost no rainfall during this month. As a result, tailor your itinerary to the specific destinations for maximum discovery.
Weather in Nepal in April
In April, it's a good time for climbing as the high passes are usually snow-free, and the mountain views are clear. You will also be hiking along colorful blossoms such as Rhododendrons and wildflowers.
It is important to note that trekking in Nepal involves a wide range of altitude and temperature. So, conditions can and will vary depending on altitude. The weather and temperatures mentioned here are only used as rough indications. A general rule of thumb: for every 100 m / 300 ft climb, the temperature drops by 1°C / 1.7°F.
During the summer, the temperature in Kathmandu and Pokhara reaches around 33°c / 92F.
Traveling to Nepal in April? Take a look at these fantastic itineraries.
Everest Base Camp Trek in April
Quick Info
Max. Elevation: 5,545m. / 18,192 ft.
Duration: 12 – 14 Days
Difficulty: Moderate
Permits: Khumbu Municipality Entrance Permit and Sagarmatha National Park Entry Permit
Accommodation: Lodge
Is hiking Everest on your bucket list for your next epic journey? If so, you should plan on trekking to Everest Base Camp in April. It is world's most famous trekking destination. There are several routes and destinations accessible to Everest Base Camp in April.
In addition to Everest Base Camp, you can hike further Everest Three Passes, visit Gokyo Lake, climb Mera, Island, and Lobuche peaks in April.
As the weather conditions are favorable in April, you will be able to see completely unobstructed views of the entire massifs without fear of heavy snowfall or rainfall.
During April, trekkers will be amazed by the variety of natural color on Everest BC trail. The valleys and hills are dyed with a wide range of wildflowers, including rhododendrons, and just above them, the bleached mountain stands with an awe-inspiring smile.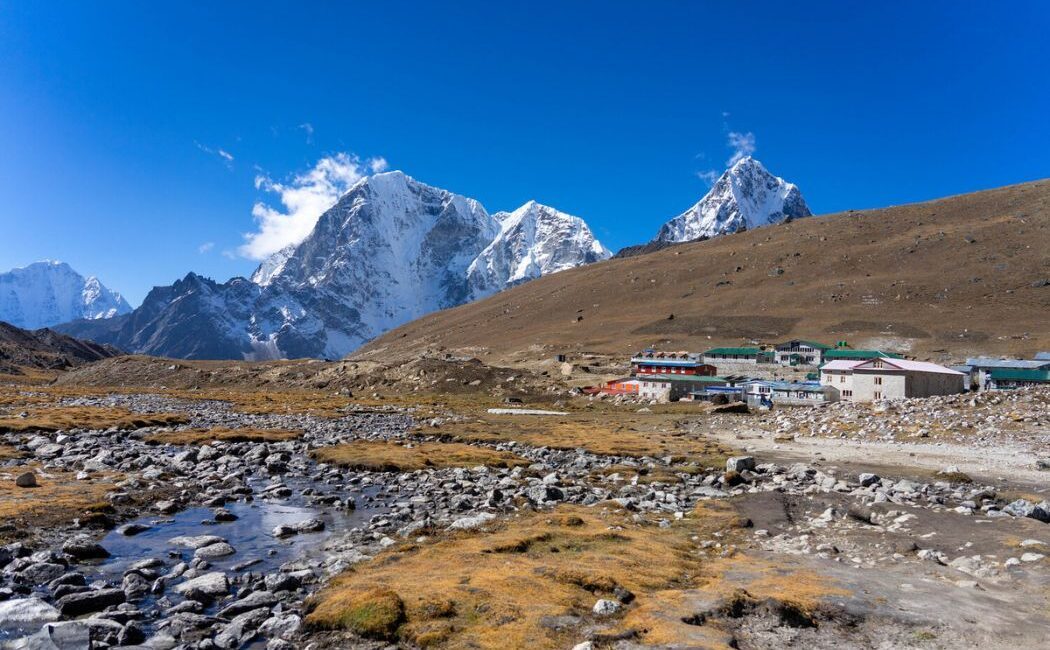 Annapurna Circuit Trek in April
Quick Info
Max. Elevation: 5,416m. / 17,769 ft.
Duration: 10 to 16 Days
Difficulty: Moderate
Permits: Annapurna Conservation Area Project Permit and Trekkers' Information Management System (TIMS)
Accommodation: Lodge
The Annapurna Circuit Trek, considered one of the best treks in the world, is the second busiest trekking route in Nepal in April. Attractive landscapes, a pleasant climate, changing vegetation, and a diverse culture make your trip more exciting, memorable and enjoyable. In a single trip, you can explore everything from dense forests to rhododendron-filled vegetation to the semi-arid rocky landscapes.
Walking from Jagat to Jomsom or until Naypaul (Pokhara), passing through lush greenery, rivers, scenic trails, and breathtaking mountain views. The duration of the Annapurna Circuit trek is determined by where you begin and end, how many side trips you take, how many days you spend acclimatizing, and the route you choose.
Annapurna Base Camp Trek in April
Quick Info
Max. Elevation: 4,130m. /13,549 ft.
Duration: 7 – 12 Days
Difficulty: Easy to Moderate
Permits: Annapurna Conservation Area Project (ACAP) and Trekkers' Information Management System (TIMS)
Accommodation: Lodge
The Annapurna Base Camp Trek, a spectacular journey to the foot of the world's tenth tallest peak, is another seamless option for Nepal in April. This trek, which can be completed in short days, visits two mountain base camps at the same time: Annapurna and Machhapuchre.
Annapurna Base Camp is situated at an elevation of 4,130m and once reached there, a Himalayan panorama is just in front of you where the Annapurna and Gangapurna massifs are closely observable. Mt. Machhapuchre (Fishtail), a mountain shaped like a fish, will delight you the most.
The trek to Annapurna Base Camp begins at Nayapul. Passing through lush greenery, small settlements, river valleys, gorges, and high suspension bridges, you reach at the alpine atmosphere, which is surrounded only by giant peaks. And the people you meet along the way are always friendly, charming, kind and smiling.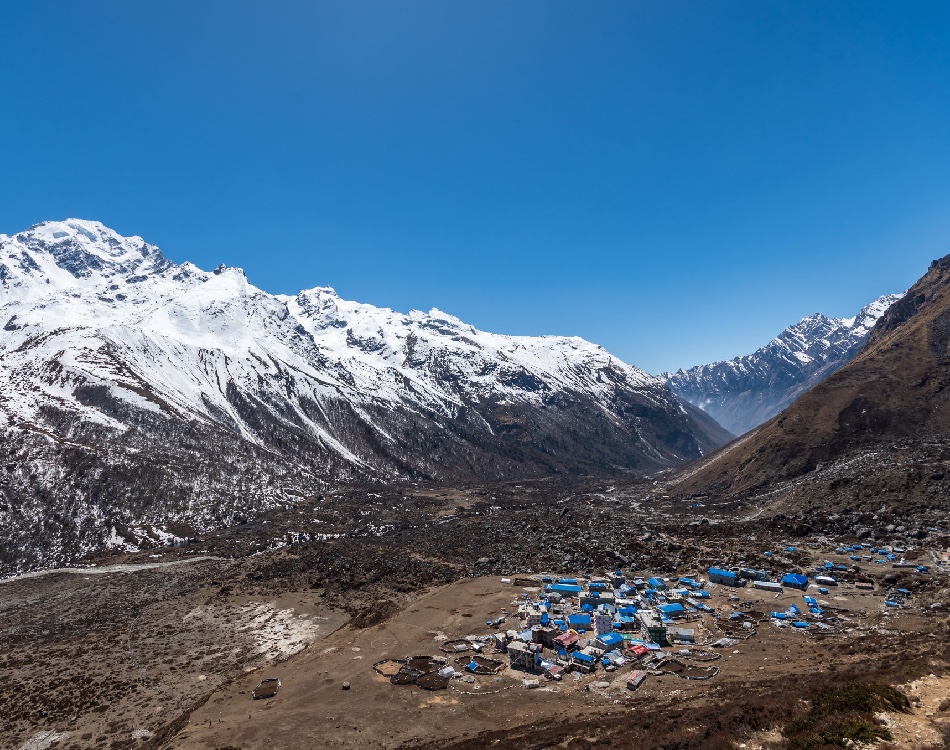 Langtang Valley Trek in April
Quick Info
Max. Elevation: 3,817m. / 12,522 ft.
Duration: 5 – 7 Days
Difficulty: Easy
Permits: Trekkers' Information Management System (TIMS) and Langtang National Park Entry Permit
Accommodation: Lodge
Are you planning to do an easy and short trek near Kathmandu? If so, the Langtang Valley Trek is the ideal choice for you. This short, easy and awesome trek is suitable for first-time trekkers. The weather in the Langtang region generally clear during April, and you'll trek through blossoms of Rhododendron and other spring flowers on a dry and peaceful trail.
Entering the Langtang National Park, you'll witness langur monkeys, musk deer, barking deer, and even Red Pandas, which are endangered species. Farmers in the villages seem busy harvesting the crops. While hiking to Langtang, you will be amazed by various waterfalls, gorgeous mountain ranges, and Tamang communities.
Manaslu Circuit Trek in April
Quick Info
Max. Elevation: 5,106m. / 16,751ft.
Duration: 12 – 17 Days
Difficulty: Moderate to Demanding
Permits: (RAP) Manaslu Restricted Area Permit, (MCAP) Manaslu Conservation Area Permit, and (ACAP) Annapurna Conservation Area Project
Accommodation: Lodge
Nepal has an endless number of trekking routes, each with its own unique features. Alternative choice for Nepal in April is the Manaslu Circuit trek, which allows you to circle Mt. Manaslu, the world's eighth highest peak, within the Manaslu Conservation Area and, in the later part of the trek, also adjoins the Annapurna Conservation Area. Trekkers will have a different experience than in Nepal's Everest and Annapurna regions, where crowds of tourists march every day.
So, how is the trekking routes? You will trek along an ancient trail, experiencing unique culture and hospitality while enjoying the breathtaking views of Manaslu and other mountain peaks. Rhododendron trees in subtropical jungles with perfect blossoms. As you ascend the high altitudes, you will encounter large alleys, mane walls, and peace wheels, with almost a medieval lifestyle.
Mardi Himal Trek in April
Quick Info
Max. Elevation: 3580m. / 11745 ft.
Duration: 5 – 7 Days
Difficulty: Easy
Permits: Annapurna Conservation Area Project (ACAP) and Trekkers' Information Management System (TIMS)
Accommodation: Lodge
This trek is ideal for those new to Nepal's mountains or those with limited time, as it is just over a week in length. It is a beautiful trek that takes you through rhododendron forests to what feels like the face of the mountains themselves, when you get up close and personal with Fishtail, Annapurna South, Hiunchuli, Mardi Himal, Gangapurna, Annapurna I, and
The Mardi Himal trek is a magical place situated just east of the Annapurna Base Camp trek, as few hikers make their way to Mardi Himal's Base Camp, which is remarkably situated at the base of Mardi Himal and the absolutely gorgeous and imposing Machhapuchhre (Fishtail).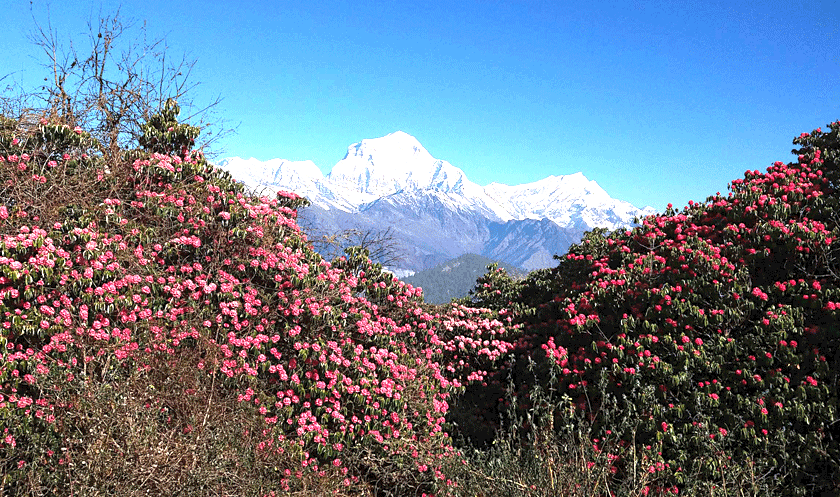 General Frequently Asked Questions
Is April a good month to visit Nepal?
April is the best month for visiting Nepal, the weather conditions, trekking routes, availability of guest houses in the high Himalayas and more. The hills and mountains welcome you with a variety of wildflowers and snow-capped mountains.
When is the best time to trek in Nepal?
Generally, there are two main seasons for Nepal trekking: spring (March to May) and autumn (September to November). During these months, the skies are clear, there is little chance of rain or snow, and the views are simply stunning.
What is the weather in Nepal in April?
Various weather conditions can be found here in April. The plains of Terai have a comparatively warm and moist climate, with temperatures ranging from 25°C to 40°C during the day.
The weather is moderate in hilly areas such as Kathmandu. During the middays, the temperature can reach 25°C to 30 °C.
In the Himalayan regions above 3500m above sea level, day temperatures range between 15°C to 25 °C in the afternoons. The temperature ranges from 5°C to 10°C in the evenings and mornings, and it usually drops below freezing at night.
Final Say,
April is a good month to visit Nepal for almost any activities you want to do there. April is a fantastic month for trekking, climbing, rafting and jungle safaris.
For any queries or questions about Nepal adventures, tours, trekking in Nepal in April, feel free to contact us.
You May Also Like