Everest Base Camp Trek in February
Everest Base Camp Trek in February is one of the mesmerizing adventures in Nepal. No matter what the environmental condition is, this trek has always been preferred by trekkers. The mystic allure of the Himalayas, combined with the sense of accomplishment that comes with reaching the base camp of the world's tallest mountain, is an adventure seeker's dream. But here's the catch: not many dare to undertake this journey in February.
As we already mentioned, the temperature is harsh, falling down to -0 Degree Celsius. It brings the risk of altitude sickness and other health hazards as well as the risk of avalanches and frostbite. But Everest Base Camp Trek in another sense is very alluring as the trails are less crowded and the region is full of beautiful sceneries.
In this article, we'll unveil the secrets of embarking on the Everest Base Camp trek in February. Let's dive into it.
Why Embark on The Everest Base Camp Trek in February?
Ideal Weather Conditions
February brings crisp, clear skies and mild temperatures to the Everest region. Unlike the overcrowded and bustling months of spring, this is the time when the trails are relatively quieter. The daytime temperatures hover around -10°C to -15°C, which may sound cold, but with the right gear, it's the perfect time to avoid the crowds and experience a serene journey.
Similarly, the views are pristine and majestic with temperatures being on your side. Though the trail might be full of snow due to heavy snowfall, with good preparation, trekkers can always embark on the Everest Base Camp trek in February confidently.
Spectacular Mountain Views
The lack of monsoon rains and the minimal cloud cover in February mean that you'll be treated to incredible views of the Himalayan peaks. The pristine snow-capped mountains, including the iconic Everest, Lhotse, Cho Oyu, Ama Dablam, and others become one of the prime attractions for the trekkers.
In the meantime, if you are photography geek or fond of cinematic videos, Everest base Camp Trek in February is an ideal way to get into action.
The sparkling beauty of the Khumbu Glacier, Bhote Koshi River, and traditional villages are also very attractive during this trek.
Tranquility on the Trails
If you're someone who prefers solitude and tranquility on your trek, February is an ideal choice. The trails are less crowded, allowing you to connect with nature and immerse yourself in the tranquility of the Himalayas.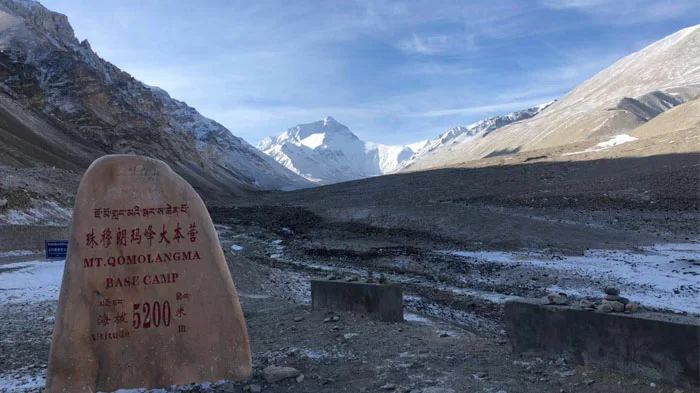 Since the trails are less crowded, you will have a peaceful trekking experience filled with pristine beauty and majestic serenity. Though the cold temperatures and snowy routes might be the challenges, you can still make the most out of your Everest Base Camp Trek in February.
We recommend every trekker be prepared for the cold temperatures with a special packing list to enjoy the most from this trek.
Cultural Experiences
February is when the Sherpa community celebrates Lhosar, their Tibetan New Year. This is a unique opportunity to immerse yourself in their rich culture, witness colorful ceremonies, and enjoy traditional dances and music. During this Festival, Sherpas people worship their gods in the traditional Gompas, which will give you insights into Buddhism and its practice in the Everest Region.
It is also the best way to delve into the local culture, lifestyle, and tradition.
The Sherpa people are known for their warmth and hospitality. With fewer trekkers around, you'll have more opportunities to interact with them, learn about their traditions, and share unforgettable moments. Their language, cuisine, and hospitality comes second to none while you take on the Everest Base Camp Trek in February.
Cheaper Trekking Experience
February falls in the winter season, so the price for the Everest Base Camp Trek package is relatively low. Since it is not an ideal trekking season in Nepal, the prices are dropped by around 50% in the packages. So it is a great opportunity to save your time and money.
Not only Everest Base Camp Trek in February, but also other relative packages in the Everest Region, they all come with cheaper prices. The accommodation facilities charge you the less while the transportation and food are also relatively cheaper than the peak trekking seasons like Spring (March to May) and Autumn (September to November).
Important Tips for Your February Trek
Packing Lists
When trekking in February make sure you have proper cold-weather gear, including insulated jackets, thermal layers, and sturdy trekking boots. These gear and equipment should provide you warmth and energy to avoid extreme cold temperatures. Here are some of the gears you should pack for the Everest Base Camp Trek in February:
Moisture-wicking long-sleeve tops and bottoms
Extra underwear
Fleece or down jackets
Insulated pants or trekking pants
Waterproof and windproof jacket
Waterproof and windproof pants
Beanie or warm hat
Sunglasses with UV protection
Sun Hat or cap
Insulated gloves
Sturdy and insulated trekking boots
Warm and moisture-wicking socks
A comfortable and spacious backpack with rain cover
Sleeping Bag rated for sub-zero temperatures
Trekking poles for stability
First Aid Kit
Trail Map and Guidebook
Portable Oxygen
Acclimatization
Acclimatization is crucial when trekking to higher altitudes. Since the high altitude location features several health risking environmental conditions like altitude sickness and even death, trekkers are required to acclimatize. During the Everest Base Camp Trek in February, trekkers can acclimatize in several locations, such as Namche Bazaar, Dingboche, and Gorak Shep.
Take your time, listen to your body, and follow the recommendations of your experienced guides to ensure a safe and enjoyable journey.
Preparation for Everest Base Camp Trek in February
Physical Preparedness
Everest Base Camp Trek in February is not an easy feat. Trekkers have to walk for around 5 to 6 hours daily from Lukla to get to the base camp. Walking for such a long duration might be physically draining and exhausting. So trekkers must prepare with their physical fitness before embarking on this trek.
Trekkers are recommended to work on their cardiovascular energy to boost up their stamina, energy, and endurance. Cycling, short hikes, and gym workouts will help you build strength for the long treks.
Guides and Porters
Guides and porters are also an integral part of the Everest Base Camp Trek. Without guides, trekkers cannot embark on any treks within Nepal. The Nepal Government and Tourism Board has passed a law to compulsorily hire a professional guide for rural trekking in Nepal. This law has been implemented for the safety of trekkers since the injury and missing cases have significantly increased.
Guides help trekkers in navigating through the rural trails. Not only that, but they also have extensive knowledge of the rural world, its culture, dos' and don'ts. Also, during the emergencies, guides can be really helpful as they have the knowledge of basic first aid and safety.
Permits
Trekkers must obtain two trekking permits to embark on the Everest Base Camp Trek in February. The first one is Sagarmatha National Park Entry Permit, which costs NRs. 3000 per person. This license is required since the EVerest Base Camp lies in the Sagarmatha National Park. It is home to hundreds of species of birds, animals, butterflies, and reptiles.
So to not hamper the wildlife and ecosystem of the national park, the authority has made it compulsory to have a permit to enter its premises. Sagarmatha National Park comes under the same provision.
Similarly, trekkers must acquire Khumbu Pasang Lhamu Municipality Entry Permit for this trek. This permit costs around NRs. 2000 per person.
If you are traveling from Jiri to Lukla, you will need to acquire Gaurishankar Conservation Area Permit, which cost around Nrs. 3000 per person.
Frequently Asked Questions
Is it possible to do the Everest Base Camp Trek in February?
Of course, it is possible to trek to Everest Base Camp in February. However, it's essential to be prepared for cold temperatures and potentially challenging weather conditions.
Do I need special gear for the February trek?
Trekkers are recommended to wear warm clothing, including down jackets, thermal layers, and good quality insulated trekking boots. Warm sleeping bags and sleeping pads are also crucial for this trek.
Is it crowded in February?
February falls under the winter season, which is off-peak time for trekking. So, the trekking routes to the Everest Base Camp in February is less crowded.
Are there any altitude-related issues in February?
Altitude sickness is the major concern during the Everest Base Camp Trek in February. Since it falls under the winter season, the chances of altitude sickness is high.
How do I get to Lukla, the starting point of the trek, in February?
You can take a domestic flight from Kathmandu to Lukla. It takes around 30 to 45 minutes to reach Lukla from the capital city.
Do I need a permit for the Everest Base Camp Trek in February?
You'll need a Sagarmatha National Park permit and Khumbu Pasang Lhamu Municipality Entry Permit for Everest Base Camp Trek in February.